Recipes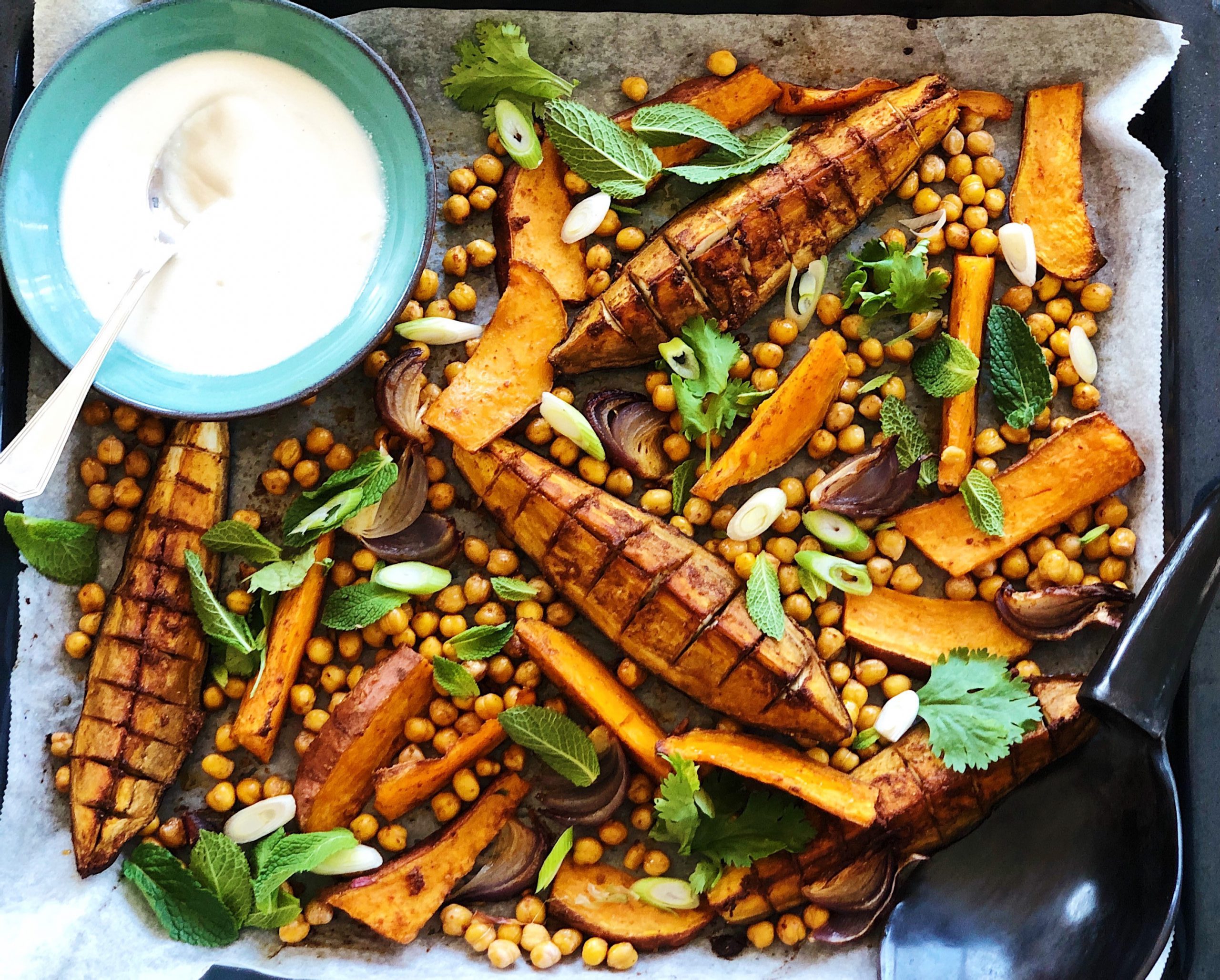 Middle-Eastern traybake
Season :All Servings :2 Diet :Vegan, gluten free Time :40 minutes Difficulty :Easy
A quick and easy weeknight dinner recipe! Eat with some falafel or naan on the side and you can double the recipe to eat it like a salad for lunch the next day.
INGREDIENTS
1 aubergine
1 sweet potato
400 ml. tin of chickpeas
1 red onion
3 tbsp. of olive oil
1 tsp. cumin powder
1 tsp. coriander powder
1 tsp. harissa
1 clove of garlic finely chopped
Large pinch of salt and pepper
Tahini dressing
3 tbsp. of tahini
Juice of half a lemon
Toppings
Chopped mint leaves
Chopped coriander
Finely sliced spring onion
Pomegranate seeds
Optional: falafel, lamb sausages or naan
PREPARATION
First preheat the oven to 190C.
Start by mixing all the ingredients for the marinade together.
Then slice the sweet potato and red onion in wedges and divide them over a baking tray (lined with baking parchment) together with the rinsed chickpeas.
Cut the aubergine in quarters and cut again each part lengthways without cutting through the skin. Then make 10-12 cuts across the flesh so it's divided into chunks but still holds its shape. This will shorten the cooking time and all parts can be properly marinated. Add a small tsp of the marinade on each quarter of the aubergine and massage it into every chunk. Use the rest of the marinade for the red onion, chickpeas and sweet potato and toss everything together. Place the aubergines on the baking tray between the rest of the vegetables.
Drizzle a little more olive oil over all the vegetables and season with a little more salt and pepper. Bake for about 30 minutes in the preheated oven, check if the potatoes and aubergine are cooked and if not give it another 5-10 more minutes.
Meanwhile make your dressing by mixing together the tahini, lemon juice and salt and slowly add some tbsp of water until you get the right consistency (thick and creamy like a vinaigrette).
When the vegetables are cooked and the chickpeas are crispy take the baking tray out of the oven. Drizzle the tahini dressing over the vegetables and top with the coriander, mint, spring onion and pomegranate seeds to finish!
ORDER MY EBOOK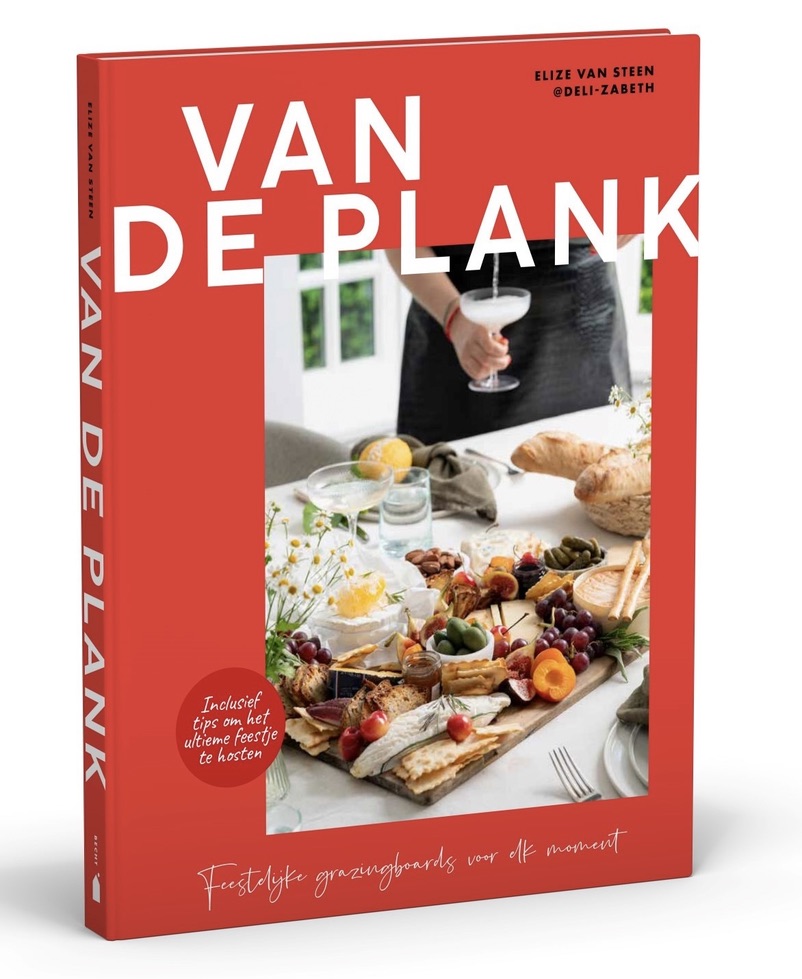 WORK WITH ME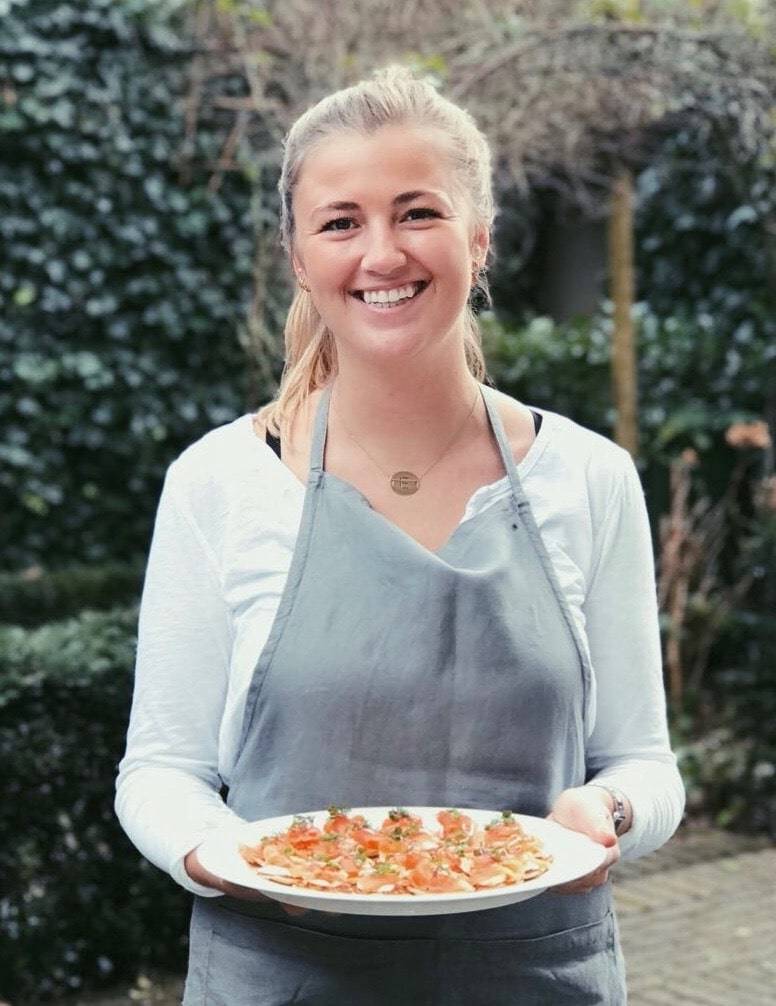 Together, we can create outstanding food experiences. I'm experienced in multiple fields and would love to tell you more about it. Click on the button below to read more about my work and to get in touch!
WORK WITH ME