Brand projects
At Grazings by Deli-zabeth, we go beyond the ordinary. We design unique, tailor-made, and stylish food experiences that make your brand or company shine. From concept to execution, we elevate your connection with your target audience by creating shareable, unforgettable, and flavourful experiences, using only the very best local and seasonal products combined with beautiful styling.
Imagine creative mailers, customized grazing boards or boxes, brand activations, press and influencer gifts, DIY cheese kits, flower arrangements, and picnic boxes. Our solutions are seamlessly tailored to your brand or company, always with that special Deli-zabeth touch. Turn every occasion into a memorable food experience and let your brand radiate!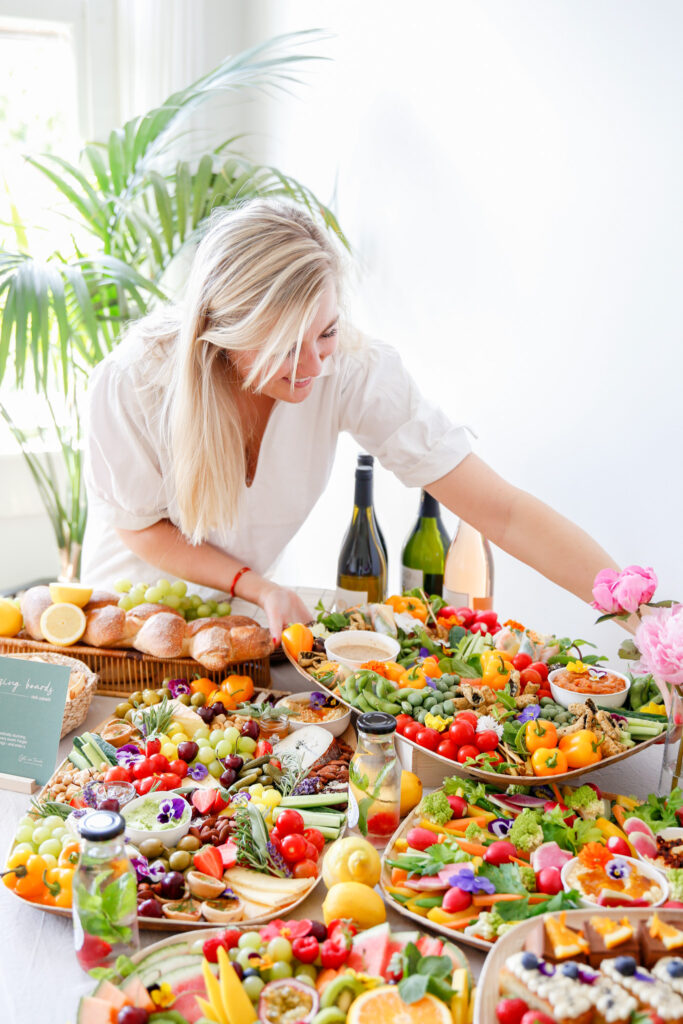 Curious about all the possibilities that Grazings by Deli-zabeth offers? Take a look at the sales kit below or send an email to info@delizabeth.nl to schedule a meeting and discuss all the options!  
Testimonials
Deli-zabeth provided the Foam team the fantastic grazing boards several times during get-togethers and meetings. The grazing boards are a real treat in every way! Beautifully laid out, colorful, usage of high-quality products and an extensive choice between meat, cheese and vegetarian. Deli-zabeth's grazing boards are not only a real eye-catcher, they are very tasty as well. In addition, it is very pleasant to work with Elize because she is creative, helps to customize the orders, communicates very well and is punctual. That is why the grazing boards are a recurring recipe at Foam occasions
I ordered a fantastic grazing board from Elize for a special evening with friends. It was well organised: a beautiful board with all the bells and whistles, great service and delicious products. We enjoyed it immensely – highly recommended!
Pien Wekking (Pienlaathaaretenzien)
Grazings by Deli-zabeth is super festive, delicious and has a variety of choices for everyone!
"Ik vroeg Elize om een onmogelijke bijdrage voor een tuinfeest, maar ze pakte dit met enthousiasme aan! Zij overtrof ook nog eens al mijn verwachtingen met een pastel-kids-grazing-table in regeboog kleuren én een práchtige Grazing table voor 30 volwassenen. Het was net zo heerlijk als dat het mooi was. Echt een fantastische manier om je gasten te verrassen op een verjaardag, borrel of babyshower!"
Instant vrolijkheid op je tafel. Alles is home made en zo smaakvol
"Elize is a passionate food lover. With her broad knowledge about good food, she develops delicious recipes that she shares with her many followers. She knows how to communicate this in the right way and inspire people. You already get hungry when reading and seeing her recipes! Elize is a real go-getter who knows how to get things done. She also uses her creative brain to develop innovative concepts and knows how to translate them into reality. With her ambition, persuasiveness, creativity and her background in food, it is very pleasant to brainstorm with her about new ideas. This to ultimately come to an recommendation for your product or concept."
Tess Broekhuizen, Compass Group
"Elize helped STACH for a few months with our recipe development, the actual cooking, marketing and making our own production kitchen financially viable. You first made contact from the Ballymaloe Cookery School in Ireland, where you had just completed an intensive, well renowned cookery course. You followed your heart after university because being truly creative in the culinary world was your passion. And it showed! The combination of your brains, your passion and your strong personality was a welcome breath of fresh air in our company. You got on well with everyone, from the owner to the chef to the cooks in the kitchen. I remember your critical attitude well when some external meal suppliers had presented their creations to us, and you thought the spices were not well cooked. It could and had to be better. You had just arrived and already had set the standards very high. That characterises you as a person and as a professional. I would recommend Elize to any company looking for professional culinary creativity!"
Martijn de Groot, Stach Food
Instant vrolijkheid op je tafel. Alles is homemade en zo smaakvol!
Wat een super ervaring was dit zeg!! Voor een bijzondere kantoorlunch waarbij veel Amerikaanse collega's waren heeft Deli-zabeth geheel in stijl een aantal varianten bagels gemaakt welke niet alleen heerlijk smaakten door middel van verse producten, maar er ook prachtig uitzagen, inclusief versiering met eetbare bloemen. Daarnaast waren er ook verschillende gezonde en verse sappen, dus er was echt voor ieder wat wils. Deli-zabeth heeft goed geluisterd naar al onze wensen en hier op een waanzinnige manier gehoor aan gegeven. De service was ook super doordat het een kortdag verzoek was en alles toch tot in de puntjes wist de verzorgen, inclusief bezorging en ook aan de opmaak was volledig gedacht zodat we het alleen maar uit de verpakking hoefde te halen en op te dienen. Al met al een zeer geslaagde lunch wat helemaal te danken is aan Deli-zabeth!!
frequently asked questions