Recept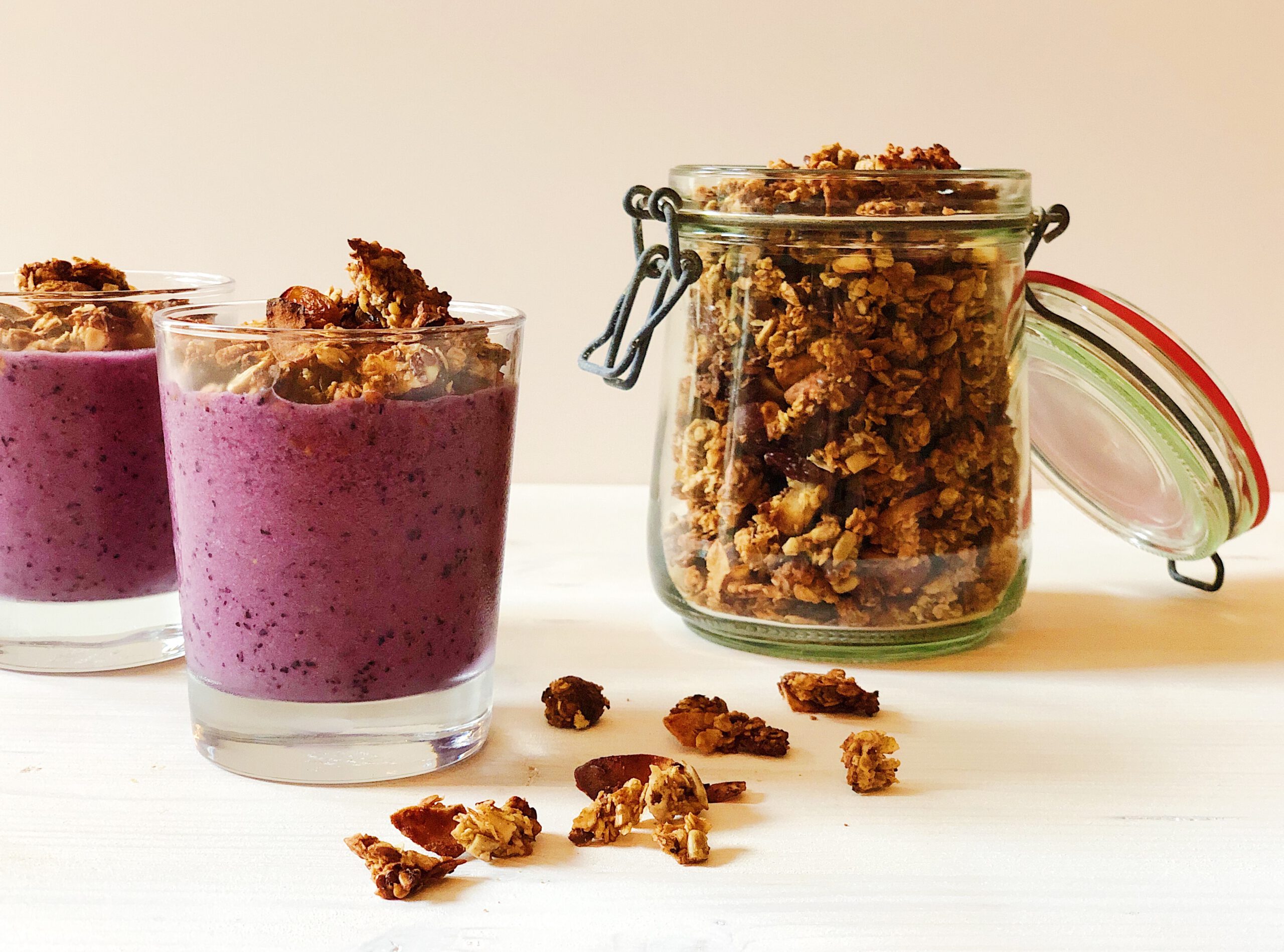 Crunchy chunky banana granola
SEIZOEN :All AANTAL :1 batch DIEET :Vegan, gluten free TIJD :40 minutes MOEILIJKHEIDSGRAAD :Easy
The best crunchy and chunky Granola with a secret ingredient… I love chunky granola but they are always packed with sugar. The secret ingredient of this recipe is banana! Stores for about a month in an airtight box in a cool and dark cupboard.
INGREDIËNTEN
350 gr. oatmeal
100 gr. sunflower or pumpkin seeds
100 gr. roughly chopped nuts (like hazelnuts, almonds, walnuts etc.)
75 gr. broken linseed
50 gr. coconut flakes
2 tsp. of cinnamon
½ a tsp of salt
70 gr. of raisins
Note: You can change the above ingredients as long as it will be the same amount in grams. The salt and oats are a must in this recipe though.
90 gr. coconut oil, melted
3 very ripe bananas
50 gr. of honey or maple syrup
150 ml water or (plantbased) milk
1 banana (preferably frozen)
70 gr. blueberries (frozen)
1 tbsp. peanut butter
Pinch of salt
BEREIDING
First, preheat the oven to 180C.
Mix the wet ingredients together with a hand blender, or mash and mix with a fork.
Combine all the dry ingredients (except the raisins) together in a large bowl and mix in the wet ingredients.
Line a baking tray with baking parchment and spread the granola mix out thinly like making a large rectangular cookie.
Bake the granola 'cookie' for 10 minutes in the oven. Take the baking tray out of the oven and break the granola in chunks before returning the tray immediately back into the oven for another 5 minutes. Toss the granola around on the baking tray every 5 minutes until almost crispy (about 2-4 times) and add the raisins for the last 5 minutes.
Leave the granola to cool completely and store into an airtight box. Serve with yoghurt and seasonal fruit or on top of smoothies.
DEZE GERECHTEN VIND JE MISSCHIEN OOK LEKKER
BESTEL MIJN EBOOK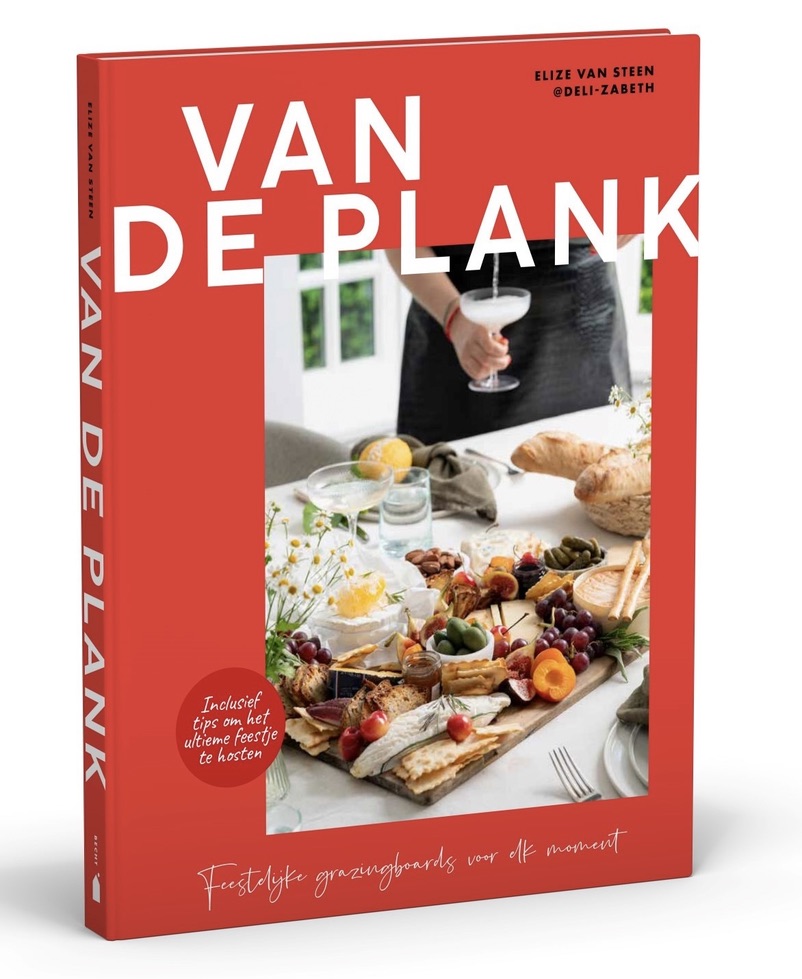 samenwerken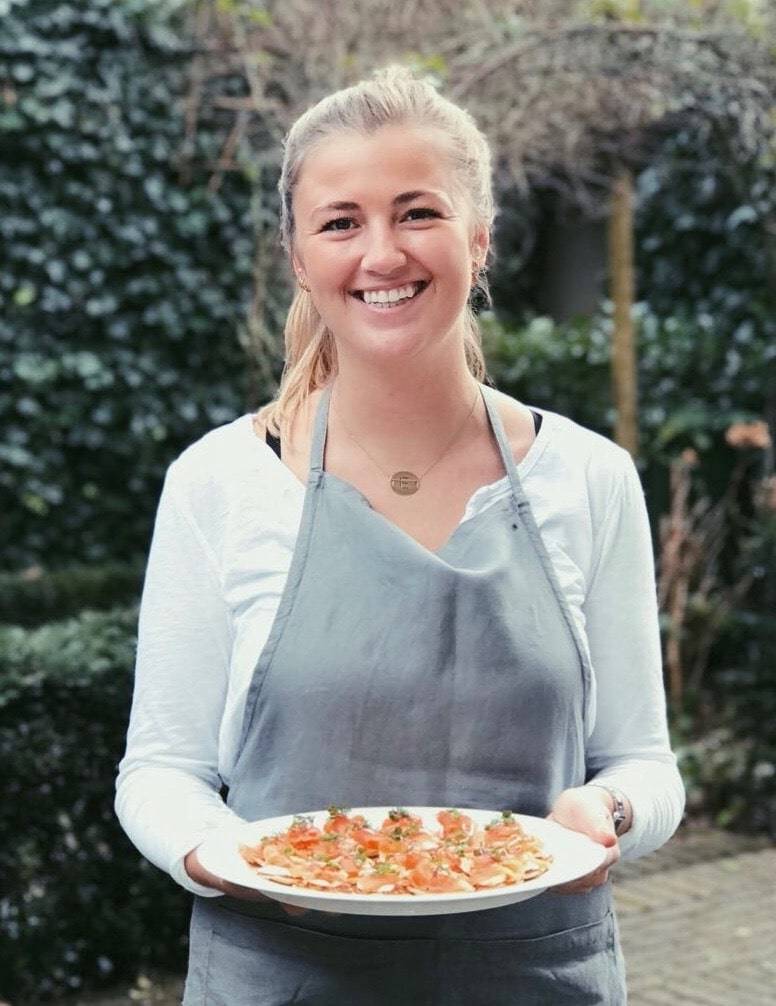 Samen kunnen we bijzondere voedselervaringen creëren. Ik heb ervaring op meerdere gebieden en vertel je er graag meer over. Klik op onderstaande button voor meer informatie.
samenwerken