Recept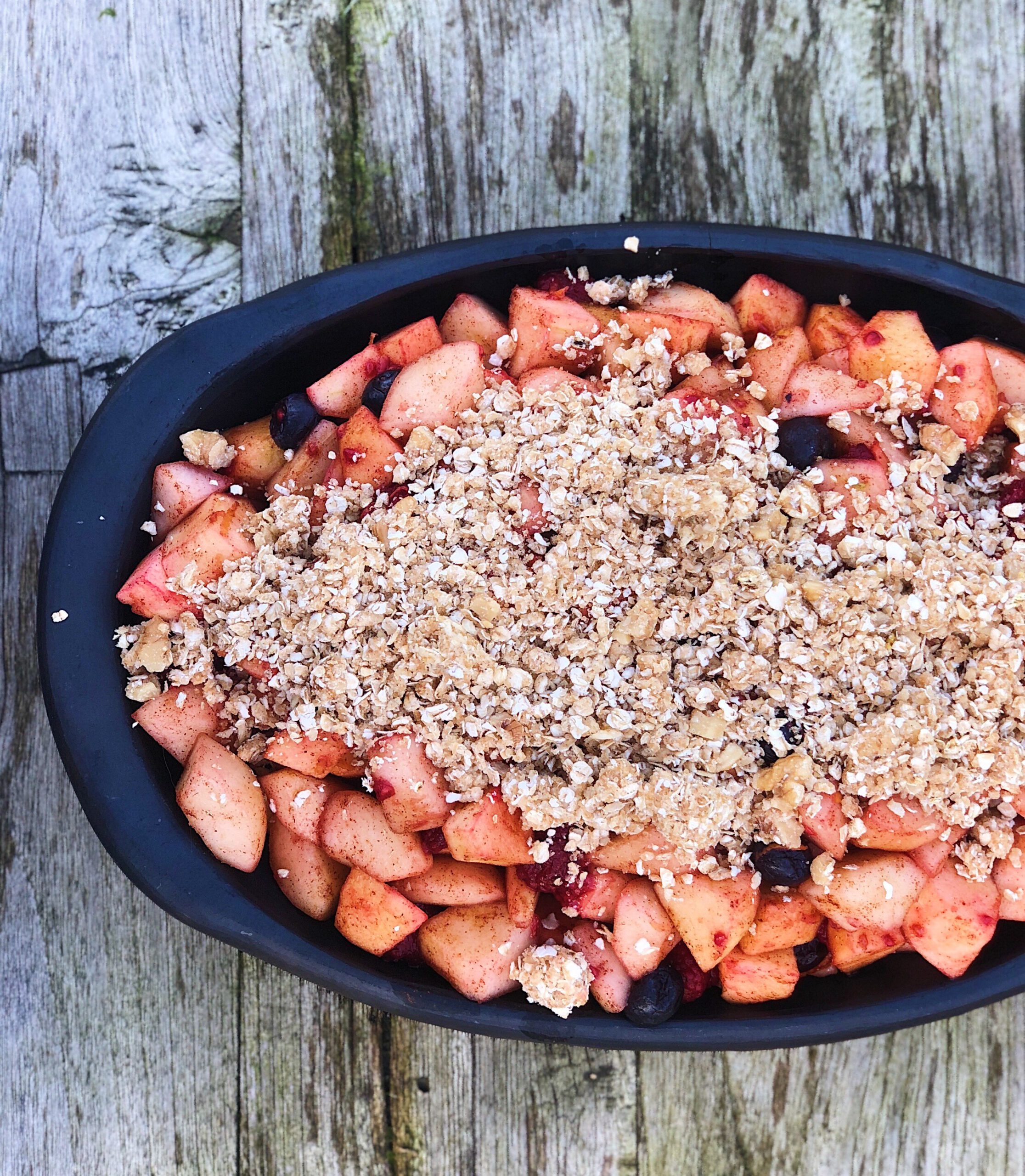 Apple and Red Fruit Breakfast Granola Crumble
SEIZOEN :Autumn AANTAL :6-8 DIEET :Vegan, Gluten free TIJD :70 minutes MOEILIJKHEIDSGRAAD :Easy
This recipe is great all year round, but end of the Summer and beginning of Autumn when all the apples are ready to be harvested is my favourite time of the year to eat this easy, kind of healthy crumble. The perfect indulgent breakfast with a couple of spoons of coconut or Greek yoghurt on the side!
INGREDIËNTEN
4 Jonagold or Elstar apples (or another sweet-sour variety)
400 gr. of frozen berries (blackberry, raspberry, blueberry etc.)
1 tbsp. of lemon juice
3 tbsp. of crystal sugar
2 tsp. of cinnamon
2 cardamom pods
130 gr. of rolled oats 
130 gr. of oatmeal
3 heaped tbsp. of buckwheat flour
120 gr. of walnuts (or any other nuts)
75 ml. of maple syrup
1 tsp. of cinnamon
Large pinch of sea salt
120 gr. of hard coconut oil (no need to melt it)
BEREIDING
Preheat the oven on 180C.
Peel and core the apples and chop in small bitesize pieces.
Bash the cardamom seeds with a pestle and a mortar. Mix the apple with the frozen berries, cinnamon, lemon juice, sugar and cardamom seeds in a baking tray (20x30 cm). The cardamom seeds are my secret ingredient which makes this crumble extra tasty!
Now prepare the crumble, mix in a bowl the oats, flour, chopped walnuts, cinnamon, maple syrup, coconut oil and a pinch of sea salt and mix by hand until you have a crumble mixture.
Divide the crumble mixture over the fruit and pop it in the oven for 50-60 minutes. Serve with some Greek yoghurt.
DEZE GERECHTEN VIND JE MISSCHIEN OOK LEKKER
BESTEL MIJN EBOOK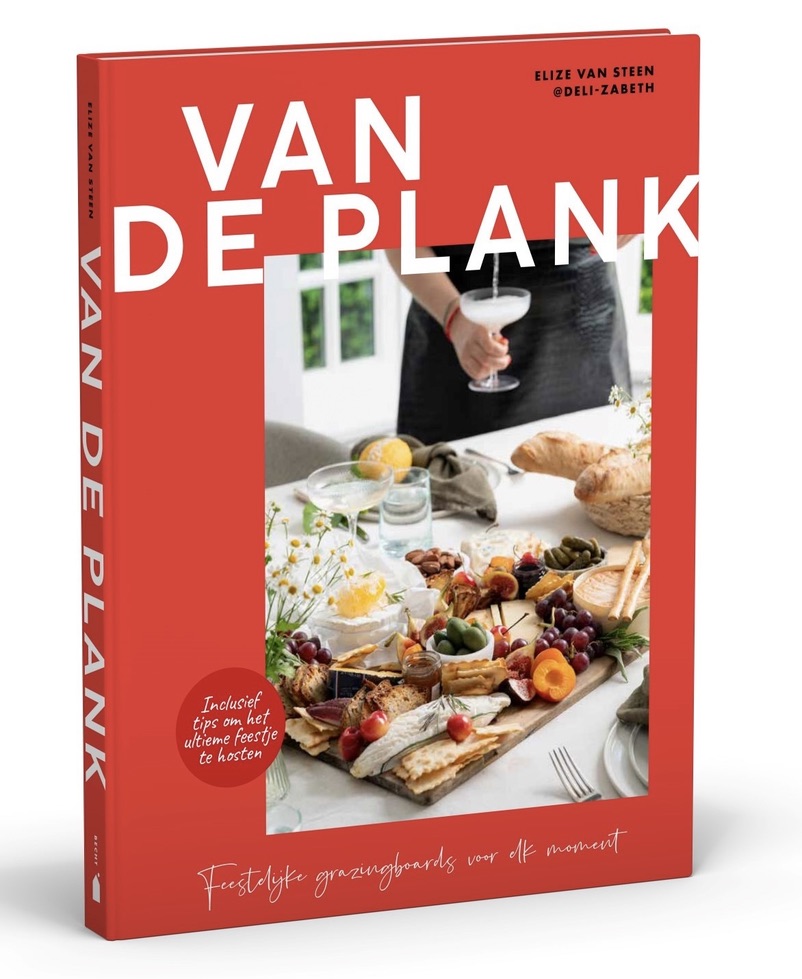 samenwerken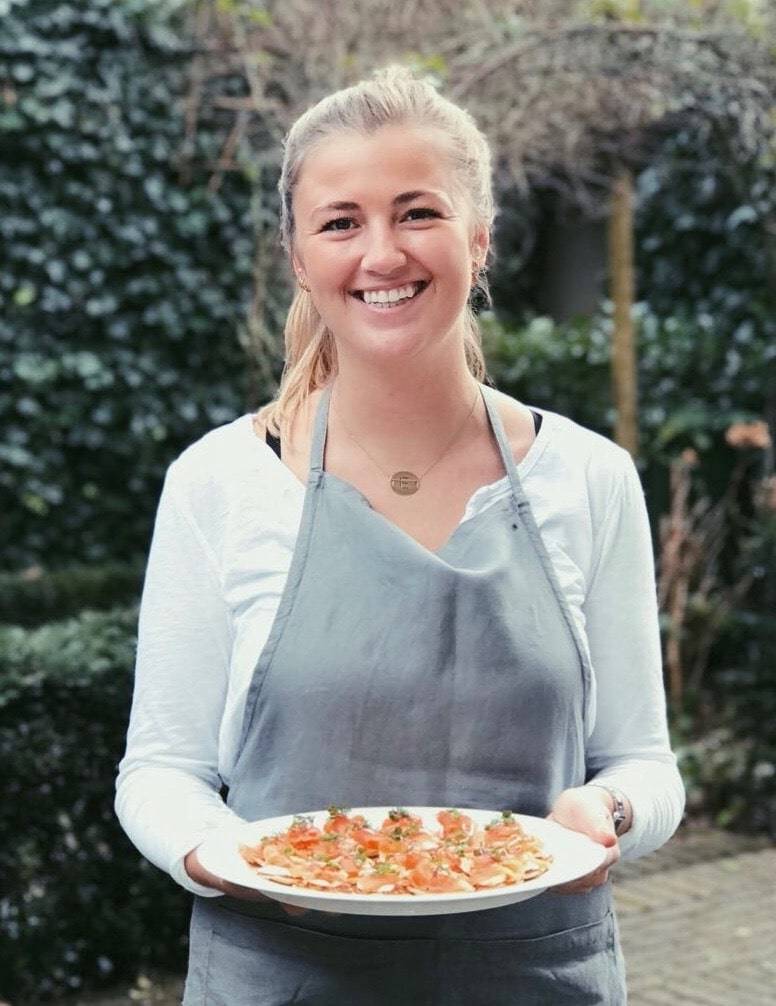 Samen kunnen we bijzondere voedselervaringen creëren. Ik heb ervaring op meerdere gebieden en vertel je er graag meer over. Klik op onderstaande button voor meer informatie.
samenwerken