Recipes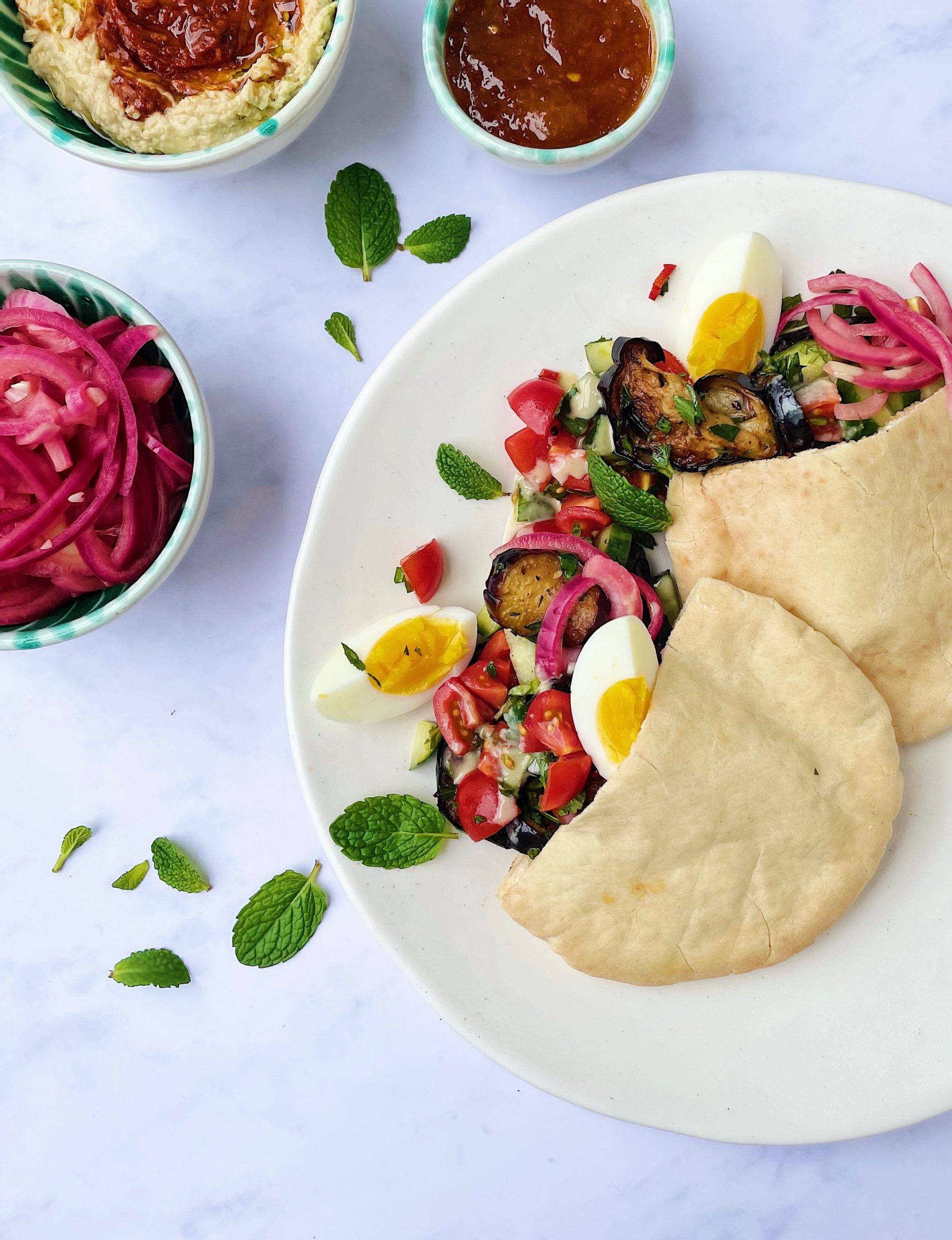 Sabich (pitta sandwich with marinated aubergines)
Season :All Servings :4 pita's (serves 2) Diet :Vegetarian Time :40 minutes Difficulty :Medium
Sabich or sabih is the ultimate Israeli street food. A deliciously warm pitta or laffa bread filled with fried marinated aubergines, boiled eggs, hummus, tomato and cucumber salad, tahini sauce etc. There are many different recipes and this is my version.
INGREDIENTS
4 Pittas
2 Boiled eggs
Amba (mango sauce) or mango chutney
Hummus (optional: mixed with harissa)
Tahini
1 cucumber
500 gr. tomatoes
Handful of mint
Marinated aubergines
2 aubergines
1 chilli pepper
1 clove of garlic
Bunch of parsley
2 tsp. za'atar
Squeeze of lemon juice
Salt and pepper
Sunflower oil
Red onion pickle
1 red onion
Apple vinegar
Pinch of salt
Pinch of sugar
PREPARATION
Start with the red onion pickle. Cut the red onion into half rings and put them in a bowl covered with half the apple vinegar and half water, a pinch of salt and sugar and leave for at least 30 minutes in the fridge.
Cut the aubergine into 1-2 cm thick slices. Heat a generous layer of sunflower oil in a frying pan and fry the aubergines for a few minutes on each side over a medium heat until they are cooked and drain on a piece of kitchen roll. Finely chop the chilli pepper, garlic and parsley and mix together with the za'atar herbs, a squeeze of lemon juice and a pinch of salt and pepper in a bowl with the fried aubergine slices.
Cut the cucumber and tomato into cubes and mix them together with a handful of chopped mint, salt, pepper and a dash of olive oil in a bowl.
Boil the eggs and briefly heat the pittas in the oven until warm. Mix a tablespoon of harissa (optional) into the hummus.
Chop the top of the pitta and spread the bottom inside with the harissa hummus and the top inside with tahini sauce. Fill the pitta with the marinated aubergines, tomato-cucumber salad, red onion pickle and the amba or mango chutney and serve immediately!
ORDER MY EBOOK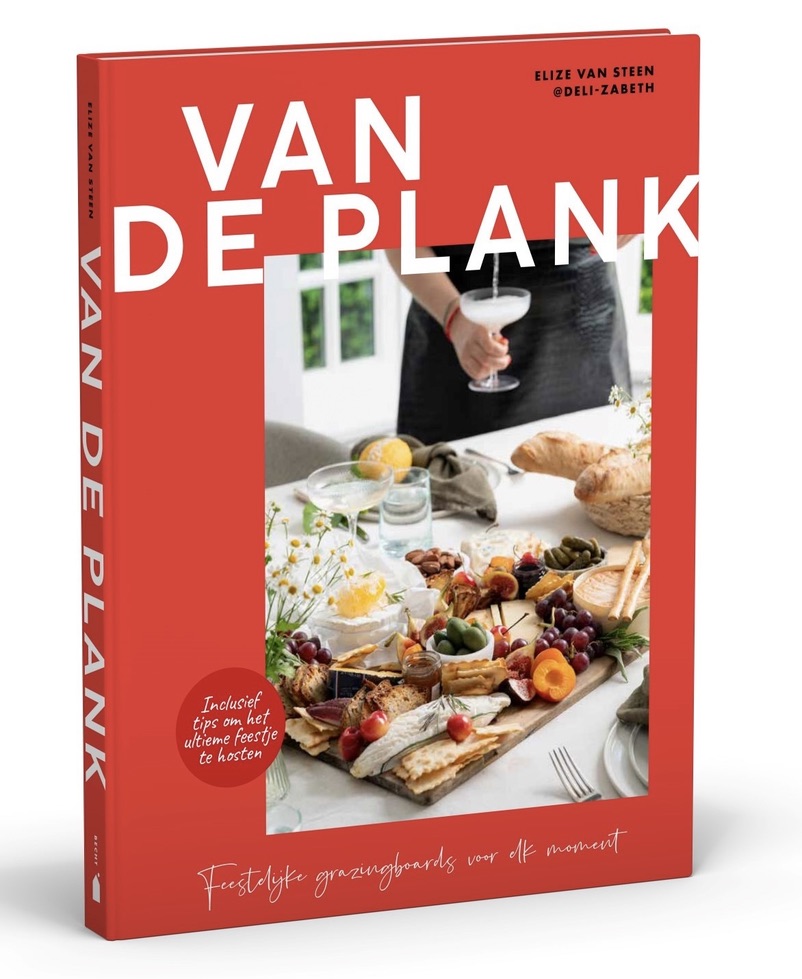 WORK WITH ME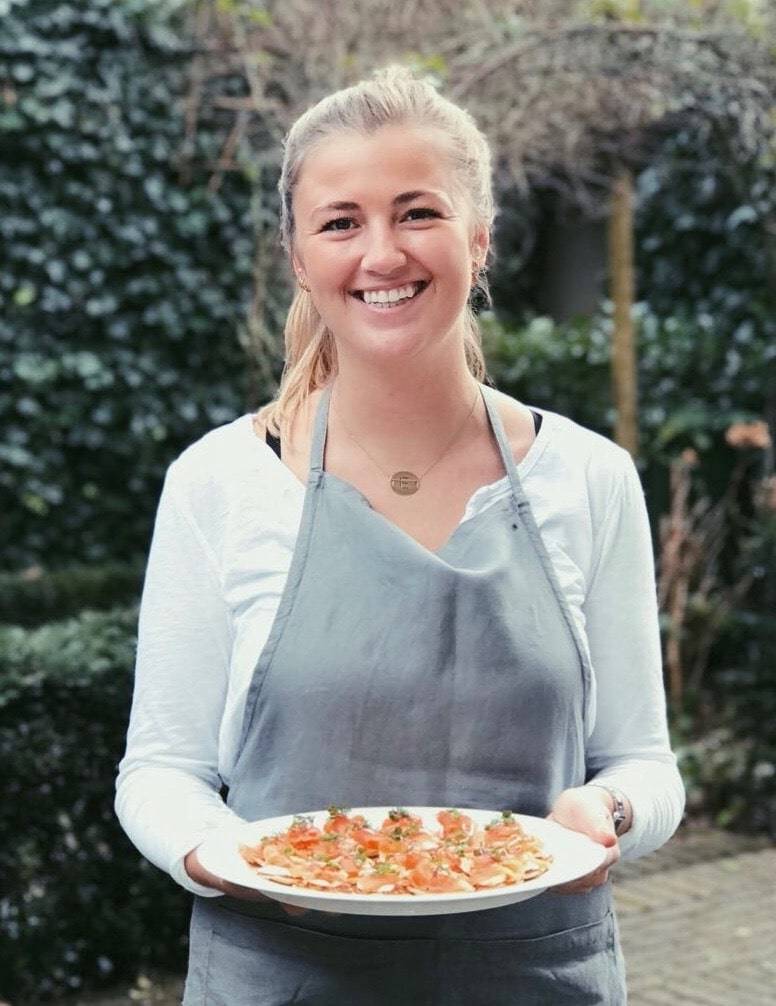 Together, we can create outstanding food experiences. I'm experienced in multiple fields and would love to tell you more about it. Click on the button below to read more about my work and to get in touch!
WORK WITH ME