Recept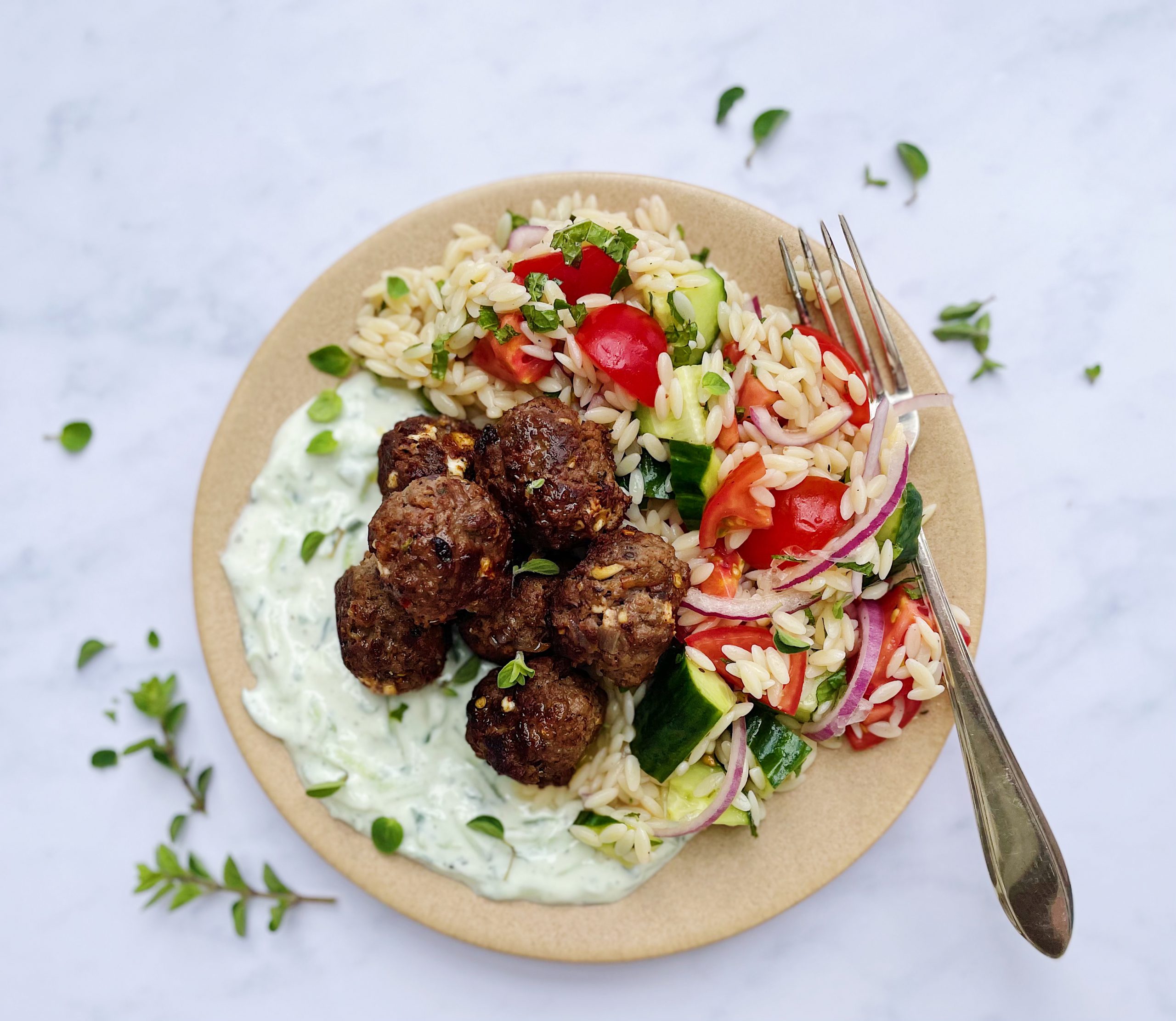 Greek orzo salad with meatballs and tzatziki
SEIZOEN :Spring/ Summer AANTAL :2 DIEET :X (swap the orzo for quinoa for a gluten free option) TIJD :30 minutes MOEILIJKHEIDSGRAAD :Easy
This recipe is delicious both hot and cold. You can also swap the orzo for pita bread to change it up. Make an extra large batch and take it to a lunch in the park or as a lunch to the office the next day.
INGREDIËNTEN
300 gr. minced beef
1/2 red onion
1 clove garlic
1/2 tsp. salt
50 gr. feta cheese
Pinch of chilli flakes
1/2 tsp. dried oregano
150 gr. orzo
1/2 cucumber
300 gr. small tomatoes
1/2 red onion
Squeeze of lemon juice
A bunch of mint
1/2 cucumber
Juice of half a lemon
250 gr. full Greek yogurt
Small clove of garlic
BEREIDING
Cook the orzo according to the package and drain.
Meanwhile finely chop half the red onion and the garlic and fry for about 5 minutes. Add these to the minced meat, together with the salt, feta cheese, chilli flakes and oregano. Make meatballs the size of ping-pong balls.
Make the tzatziki. Remove the seedlists from 1/2 cucumber and grate it on the biggest setting on a box grater. Mix the cucumber with a grated clove of garlic, lemon juice, Greek yoghurt and salt and pepper and put in the fridge until needed.
Fry the meatballs over a medium-low heat in a dash of olive oil until cooked through.
Meanwhile, continue with the orzo salad. Dice the cucumber and small tomatoes. Slice the 1/2 onion into halved rings and rinse under cold water to take off the sharpness. Drain the onions. Chop the mint and add everything together with a drizzle of extra virgin olive oil, a good pinch of salt and pepper and a squeeze of lemon juice.
Serve the meatballs on the orzo salad with the tzatziki on the side!
DEZE GERECHTEN VIND JE MISSCHIEN OOK LEKKER
BESTEL MIJN EBOOK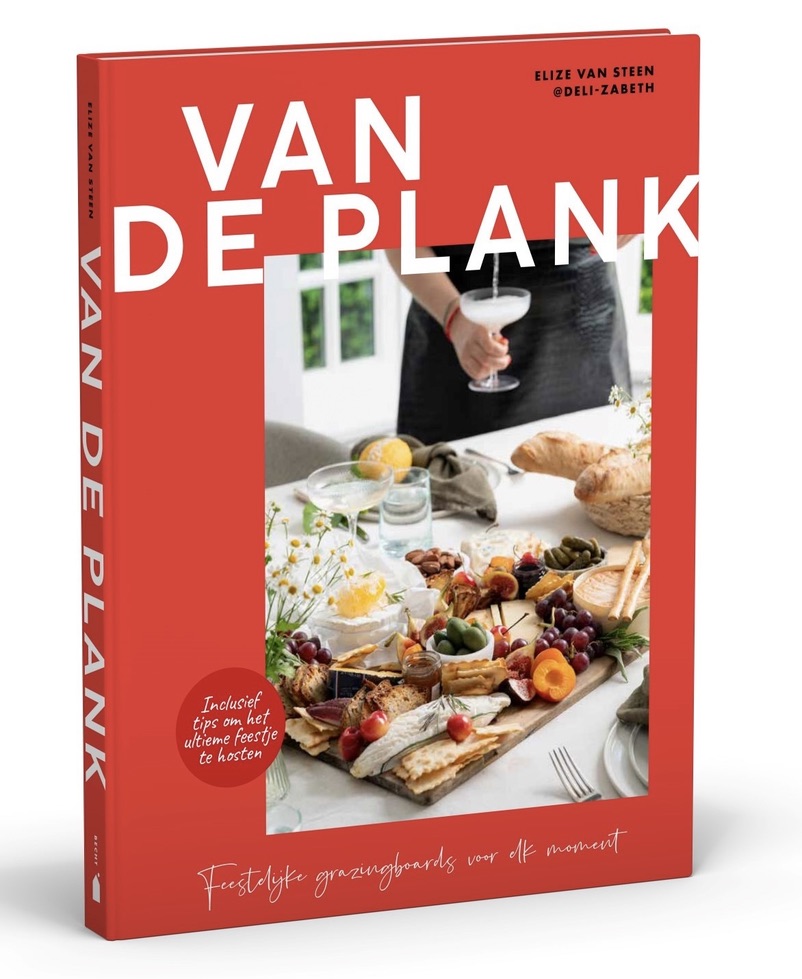 samenwerken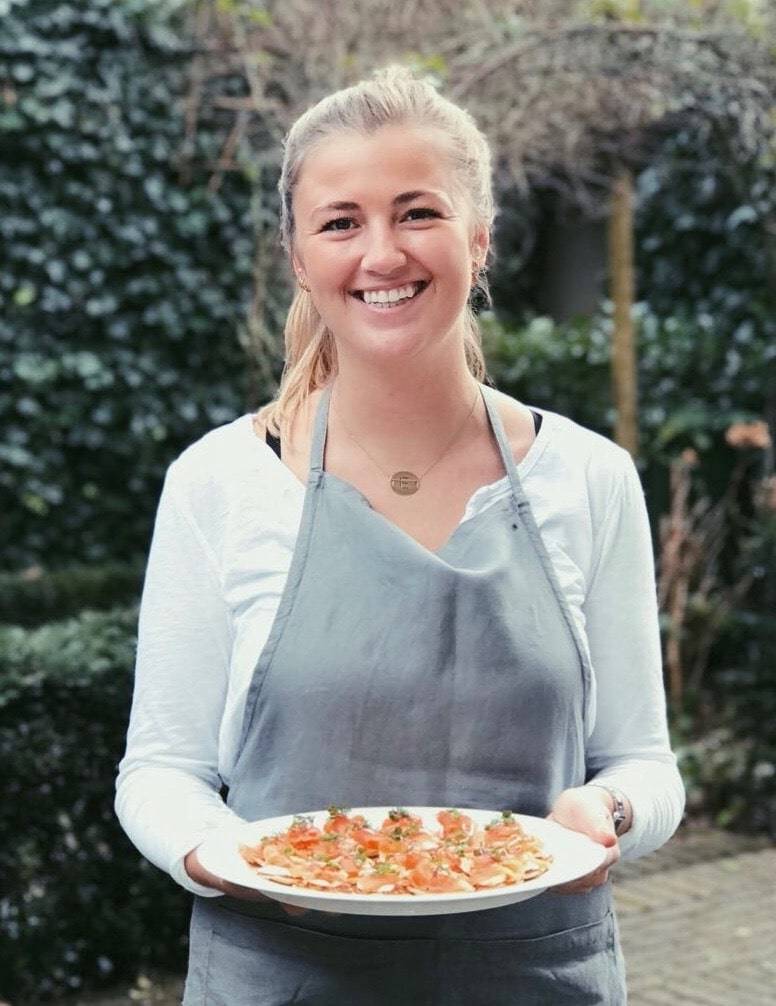 Samen kunnen we bijzondere voedselervaringen creëren. Ik heb ervaring op meerdere gebieden en vertel je er graag meer over. Klik op onderstaande button voor meer informatie.
samenwerken