Recipes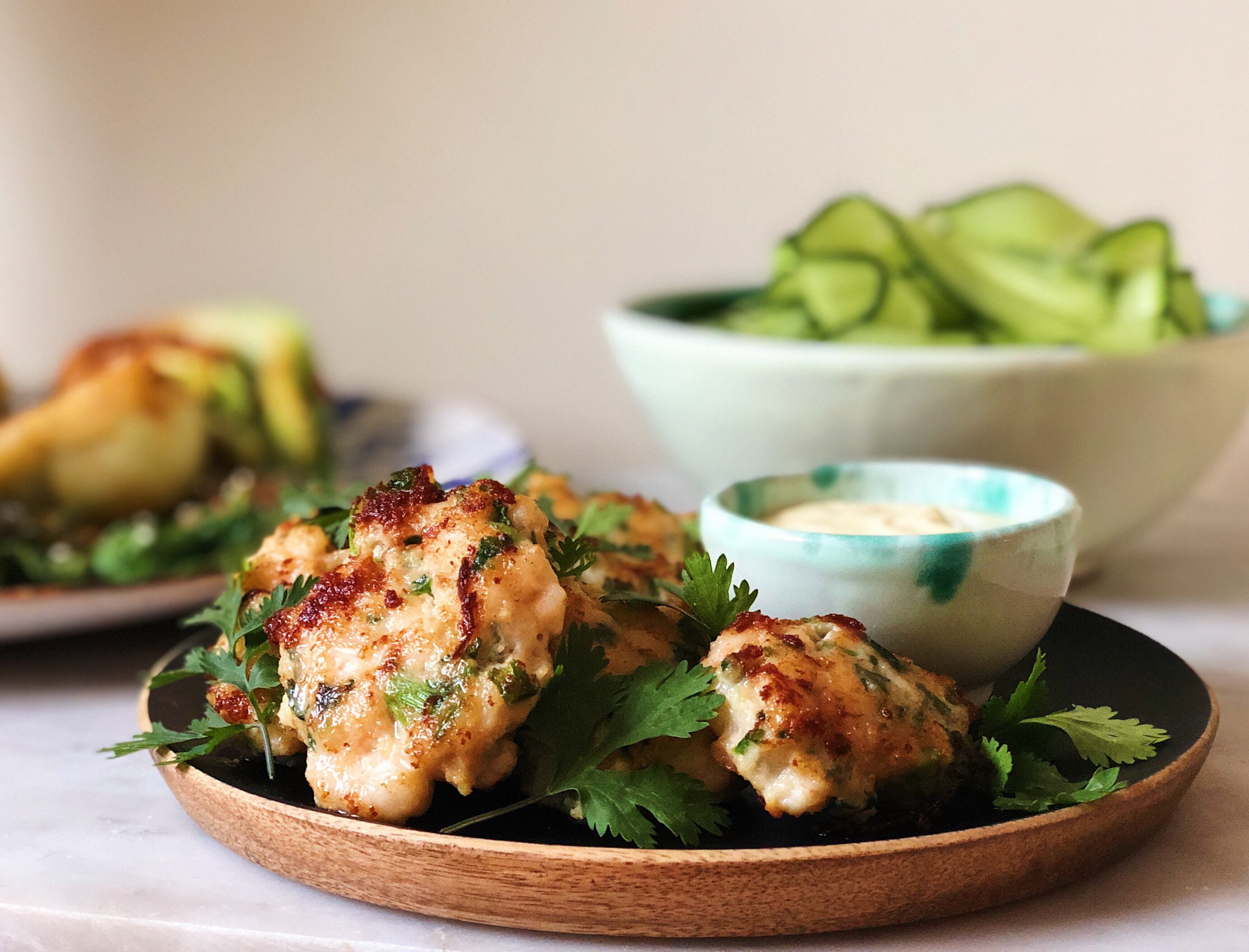 Thai fish cakes
Season :Spring/ Summer Servings :4 Diet :X Time :60 minutes Difficulty :Medium
These Thai fish cakes are one of my favourite recipes! If you have a food processor this recipe is really easy and quick to make. Otherwise you can practice your knife skills… I serve these fishcakes with a spicy lime mayonnaise, cucumber pickle and steamed greens!
INGREDIENTS
600 gr. white fish (such as cod)
The zest of 1 lime
Small thumb size piece of ginger, grated
2 stalks of lemon grass, finely chopped
2 fat cloves of grated garlic
1 red chili pepper deseeded and finely chopped
3 tbsp. of fish sauce
2 finely chopped spring onions
A bunch of coriander stalks finely chopped
1 egg white, lightly beaten
1 tsp. of caster sugar
Neutral oil like sunflower
Green steamed vegetables like tender stem broccoli or bok choy (optional)
Noodles (optional)
Dipping sauce
4 heaped tbsp. of mayonnaise
2 tbsp. of yoghurt
Juice of half a lime (use the lime from the fish cakes)
Drizzle of sriracha
Cucumber pickle
2 cucumbers
Small red onion
A couple of tbsp. of (apple cider) vinegar
Pinch of salt
Pinch of sugar
Sesame seeds
PREPARATION
Start with the cucumber pickle. Peel the cucumber with a vegetable peeler (or a cheese grater) in ribbons and finely chop the red onion. Add a couple of tbsp of vinegar, a pinch of salt and sugar and massage the liquid into the cucumber and red onion for a minute or 2. Keep it in the fridge until the rest of your dinner is ready.
Make the dipping sauce by mixing everything together.
It will save you loads of time if you have a food processor. Start with adding chunks of ginger, garlic, chilli, spring onion, rougly chopped lemongrass, coriander stalks and lime zest and pulse until it is finely chopped. Add chunks of the white fish to the food processor and pulse a few times until the white fish is chopped into small pieces. Whisk the egg white until it becomes a bit airy and spoon it into the fish mixture and add a pinch of salt and pepper, the sugar and fish sauce. If you don't use a food processor: Finely chop the white fish and add grated ginger and garlic, finely chopped lemon grass, chilli pepper, spring onion, coriander stalks, the fish sauce, lime zest, sugar, whisked egg white and season with salt and pepper. Mix everything together and form Ping-Pong size balls.
Heat a generous layer of oil in a frying pan and once hot, turn the fire to medium high. Fry a little piece of your fish cake first. Taste and see if it needs more of one of the above ingredients such as a pinch of salt, fish sauce etc. This is the time to adjust the fish cakes if necessary. Add the fish cakes to the frying pan, flatten them out with a spatula and fry for 2-3 minutes on both sides.
Serve the fish cakes hot with coriander leaves, the dipping sauce, steamed green vegetables, noodles and the cucumber pickle on the side.
Note: You can make the fish cakes ahead of time and reheat them in the oven on 180C for 10-15 minutes.
ORDER MY EBOOK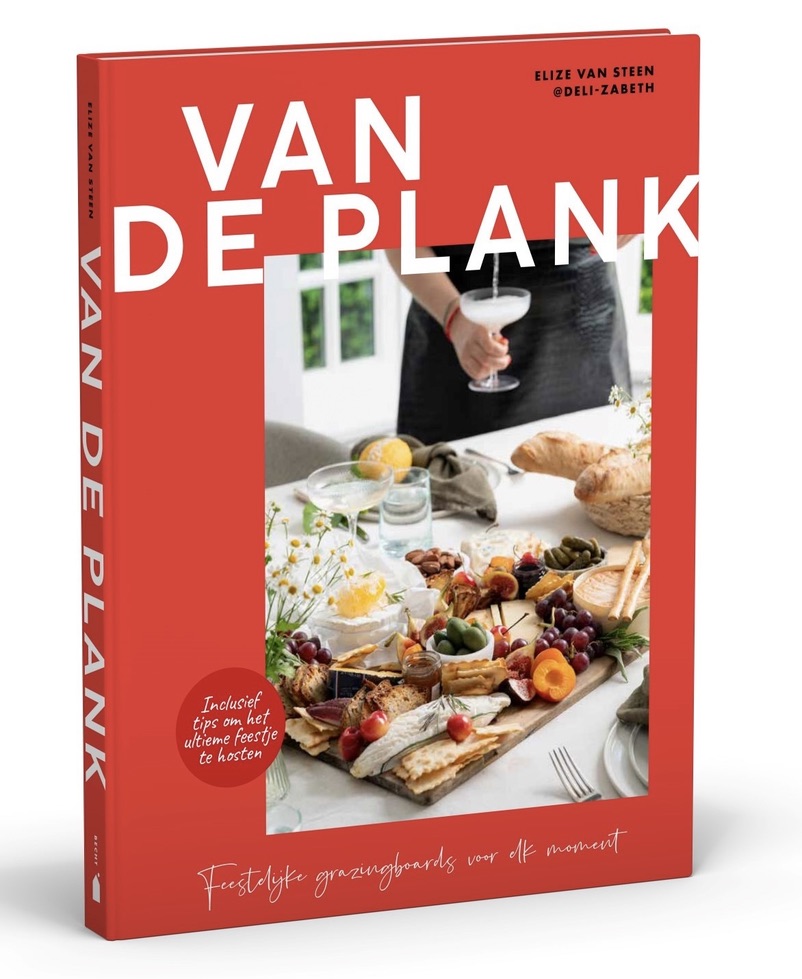 WORK WITH ME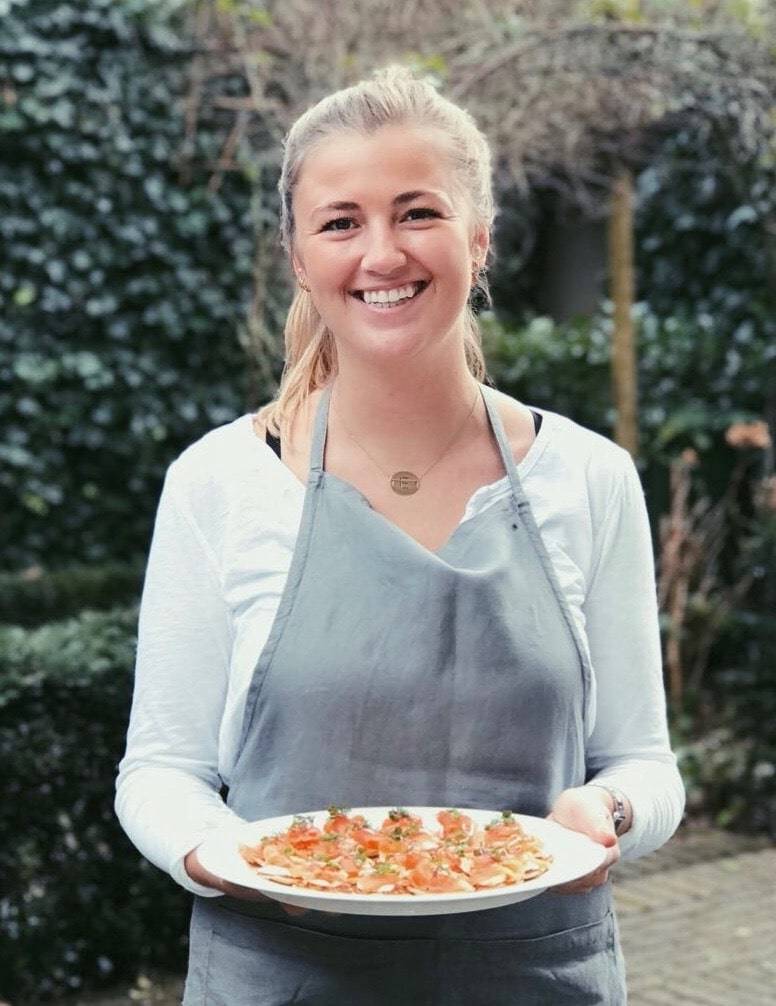 Together, we can create outstanding food experiences. I'm experienced in multiple fields and would love to tell you more about it. Click on the button below to read more about my work and to get in touch!
WORK WITH ME