Recipes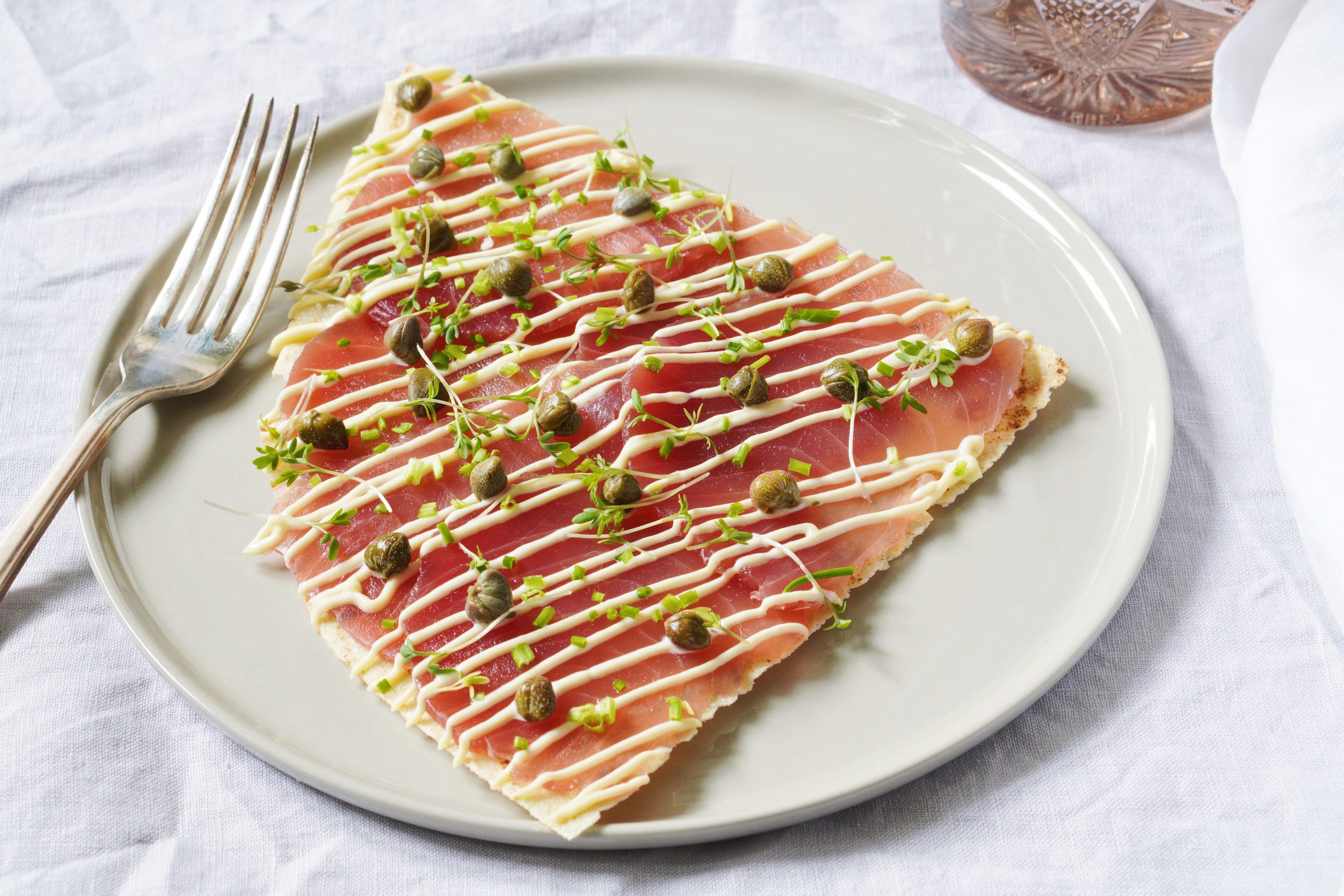 Tuna pizza inspired by the recipe from le garage
Season :All Servings :6 Diet :X Time :20 minutes Difficulty :Easy
The tuna pizza from le garage is famous in Amsterdam and for a reason: it's soooo good! The recipe is nowhere to be found so I made my own (simplified) version. This starter will really impress your friends and is easy to make. Use super fresh tuna for this recipe! If you don't have a razor-sharp knife at home, ask the fishmonger to slice the tuna paper-thin. You can also vary this recipe by using salmon or beef carpaccio.
INGREDIENTS
250 gr. tuna (or salmon or beef) carpaccio
Soy sauce
Handful of chives
Cress
Jar of capers
12 sheets of Panne carasau/ mezza luna (wafer-thin crackers available at L'amuse or wholesalers), baked filo pastry, or poppadoms
Ricotta layer
200 gr. ricotta
100 gr. crème fraîche
20 gr. finely grated Parmesan
Wasabi paste to taste
Wasabi-mayonnaise
(Kewpie) mayonnaise
Wasabi paste
PREPARATION
Mix the ricotta, crème fraîche, Parmesan and wasabi together in a small bowl.
Mix the mayonnaise and wasabi together and put them in a plastic sandwich bag. Cut off a very small tip at the bottom of the bag to form a piping bag.
Chop the chives and prepare the rest of the ingredients. You want to work quickly so that the base does not become soggy.
Coat 6 sheets of panne carasau with a layer of the ricotta mixture. Put the second sheet on top and cover it with the tuna carpaccio. Use the piping bag with wasabi mayonnaise and quickly zigzag over the tuna. Drizzle few drops of soy sauce over the carpaccio and divide the chives, cress and capers over it and serve immediately!
YOU MIGHT ALSO LIKE
ORDER MY EBOOK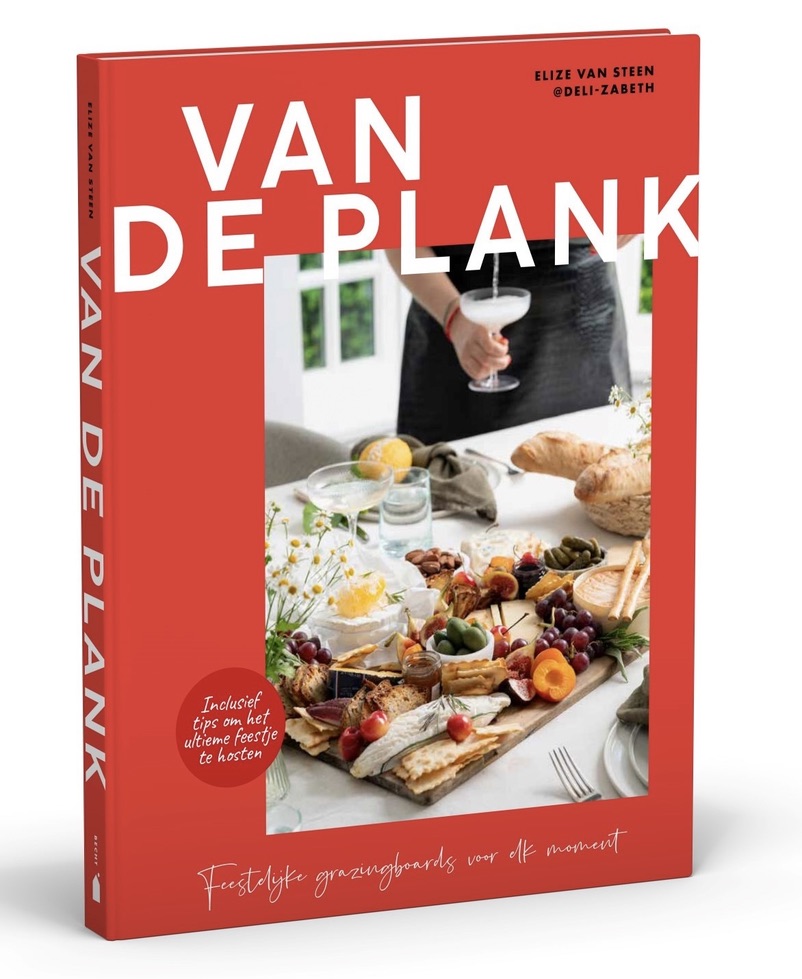 WORK WITH ME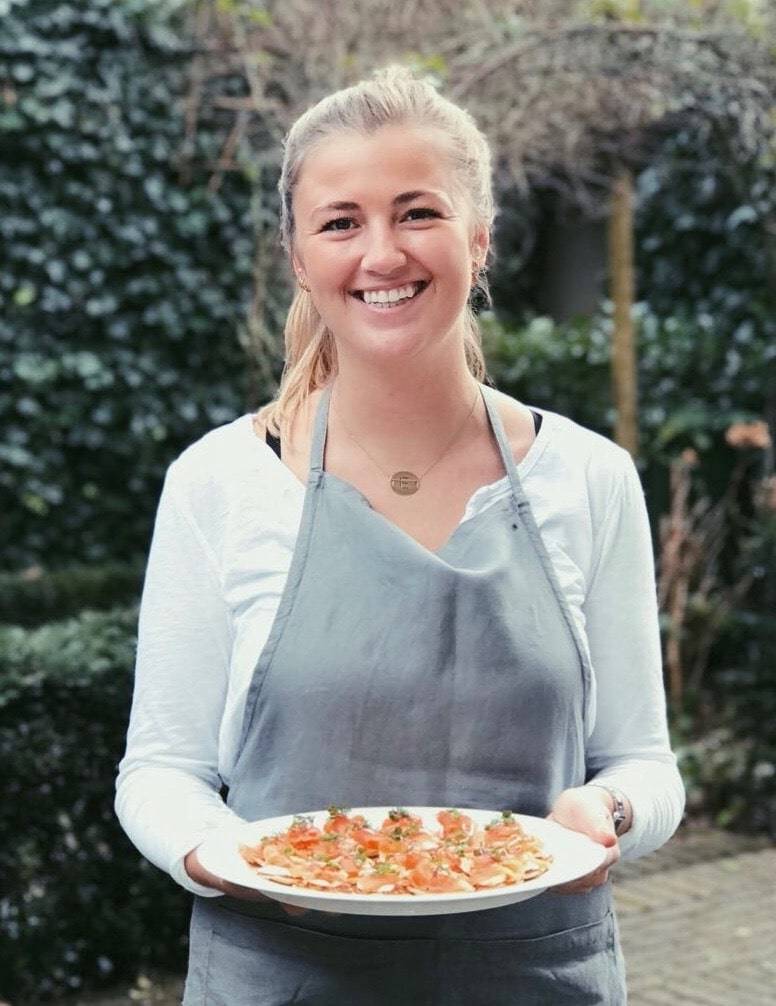 Together, we can create outstanding food experiences. I'm experienced in multiple fields and would love to tell you more about it. Click on the button below to read more about my work and to get in touch!
WORK WITH ME