Recipes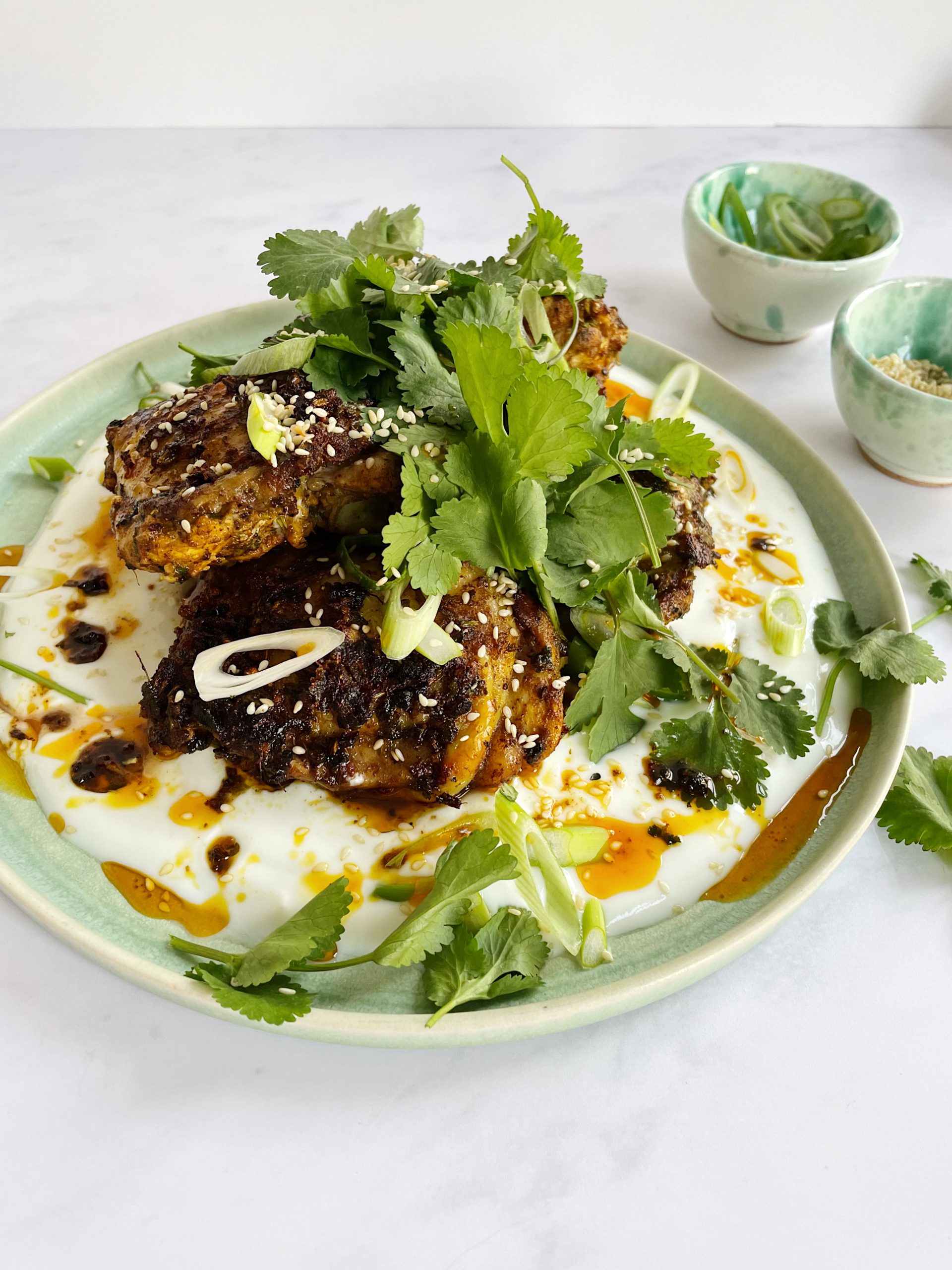 Roast chicken with yoghurt and coriander
Season :All Servings :2-4 Diet :Gluten free Time :30 minutes (plus 30 min-24 hours of marinating Difficulty :Easy
After I posted this chicken in my stories, so many of you asked the recipe so I made it again and wrote it down! This roasted chicken tastes best when you give it time to marinate in all the herbs and spices! The dish is incredibly simple to prepare and is real taste bomb. Serve the chicken with, for example, broccolini with lemon zest, dill and toasted almonds and sweet potato fries. If you cannot find chicken carbonade, use 750 gr. chicken thigh.
INGREDIENTS
750 gr. chicken carbonade (about 4 pieces), or use chicken thigh with skin
1/2 tsp. turmeric powder
1/2 tsp. smoked sweet paprika powder
1/4 tsp. cardamom powder
1 tsp. ras el hanout powder
1/2 tsp. sumac powder
1 tsp. cumin powder
30 gr. coriander
Juice of half a lemon
10 gr. ginger
2 garlic cloves
3 tbsp. olive oil
300 gr. Greek or Turkish yoghurt
2 spring onions
1 tbsp. roasted sesame seeds
PREPARATION
Mix the turmeric, smoked sweet paprika, cardamom, ras el hanout, sumac, cumin, lemon juice, chopped coriander stalks, ginger and garlic, olive oil and a generous pinch of salt and pepper with the chicken carbonades and mix well together. Leave to marinate in the fridge for at least half an hour but preferably a day.
Preheat the oven to 180C. Bake the chicken chops in a frying pan for a few minutes on both sides over a medium heat. If the frying pan is ovenproof, place it in the oven for another 10-20 minutes until the chicken is golden brown and cooked through. If the frying pan is not ovenproof, transfer the chicken plus the oil from the pan to an ovenproof dish and place in the oven.
Spread the yoghurt on a plate. Place the chicken in the middle and sprinkle with the finely chopped spring onion, coriander leaves and sesame seeds. Finally, spoon the seasoned oil from the pan or oven dish over the chicken and yoghurt and serve immediately!
Recipe Video :
ORDER MY EBOOK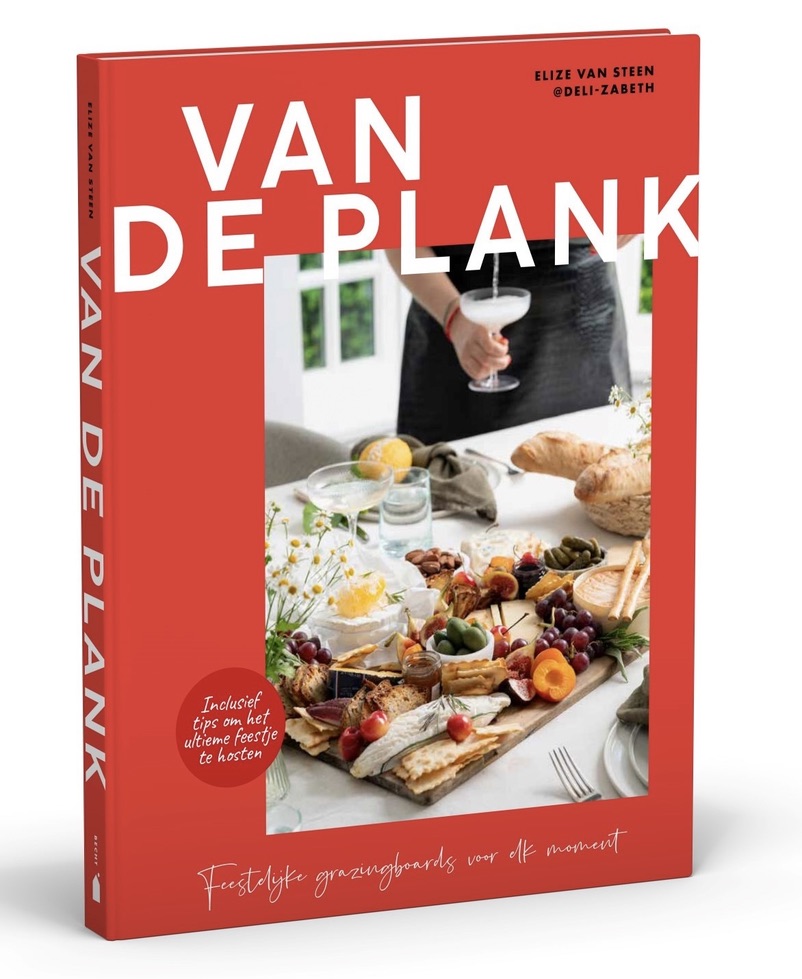 WORK WITH ME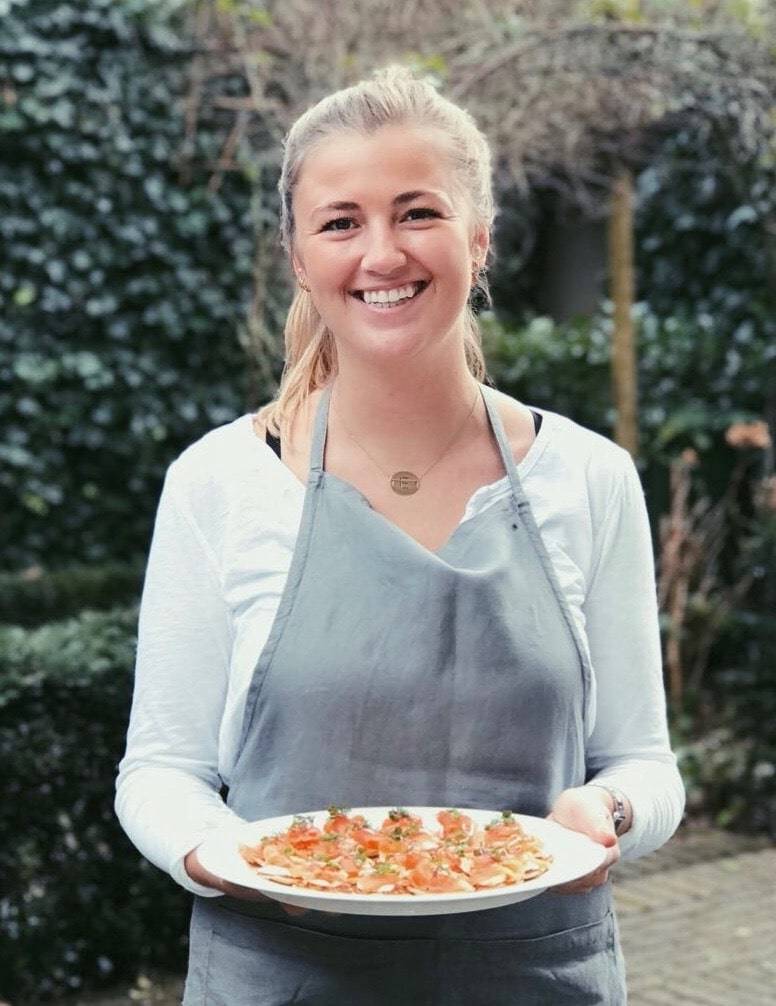 Together, we can create outstanding food experiences. I'm experienced in multiple fields and would love to tell you more about it. Click on the button below to read more about my work and to get in touch!
WORK WITH ME