Recipes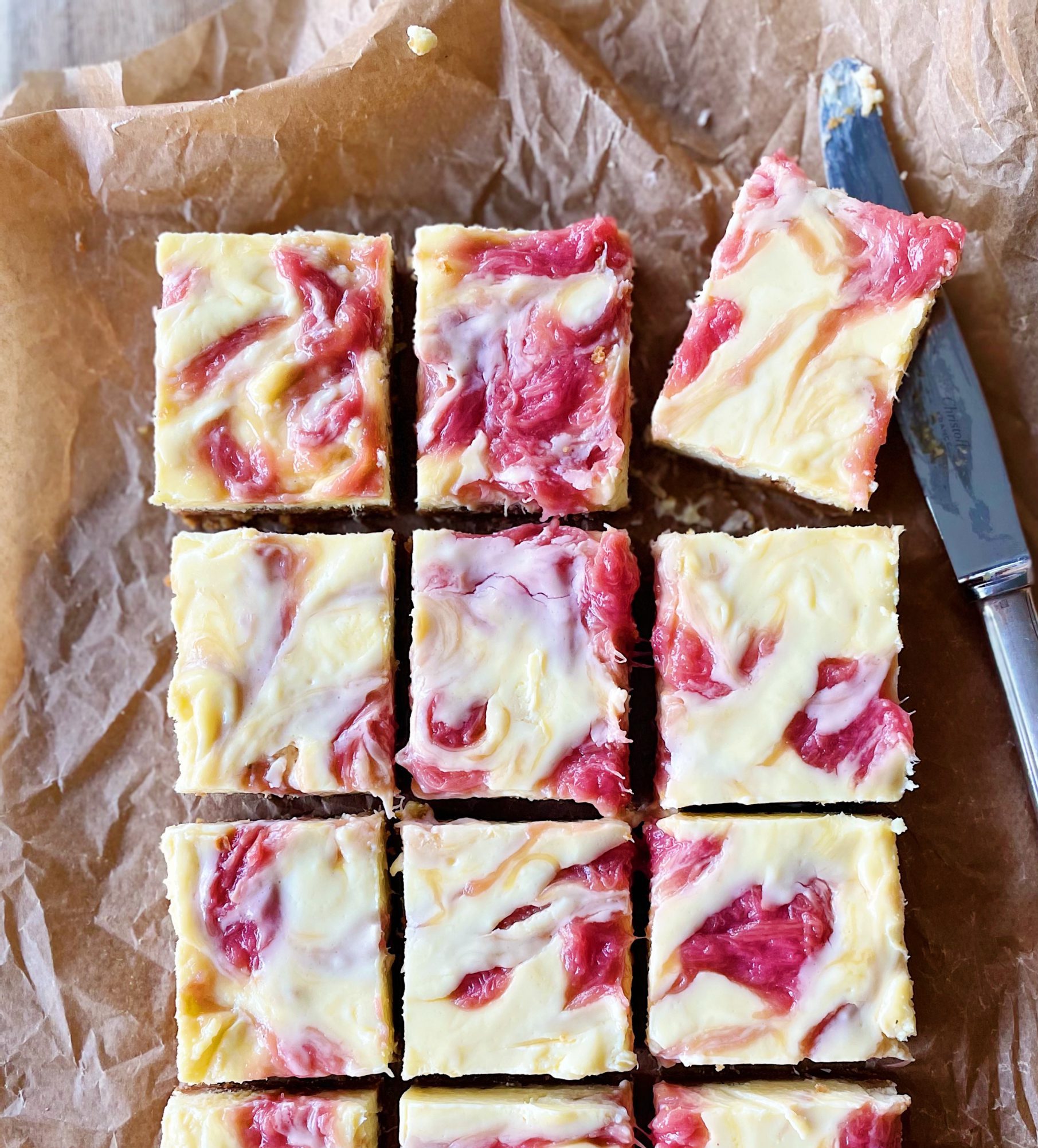 Rhubarb cheesecake squares
Season :Spring/ Summer Servings :about 12 squares Diet :Vegetarian Time :70 minutes plus cooling time Difficulty :Medium
This is one of my new favourite recipes! I'm not the best baker but after three times of baking this cheesecake I think I got the perfect quantities and baking time for this recipe. The sour and a little tart rhubarb is a great contrast to the creamy and sweet cheesecake with a little punch of ginger in the crust. If you can't find rhubarb, swap it for raspberries! Hope you will love this recipe as much as I do! You do need a food processor (or bash the cookies with a rolling pin) and a 20×31 cm oven dish for this recipe.
INGREDIENTS
200 gr. rhubarb
50 gr. sugar
1 tbsp. lemon juice
Ginger cookie crust
250 gr. gingernut biscuits (I used mc. vitie's brand)
100 gr. butter
Pinch of salt
(If you can't find gingernut biscuits use digestive cookies with 1 tsp. of ginger powder)
Cream cheese layer
200 gr. cream cheese
250 gr. ricotta
2 eggs
150 gr. of sugar
Juice of half a lemon
1/2 tbsp. corn flour
1/2 tsp. vanilla extract
PREPARATION
Chop the rhubarb in 2 cm. pieces and cook together with the sugar and lemon juice for about 25 minutes on a medium low heat until all liquid is dissolved.
Meanwhile preheat the oven to 150C.
Melt the butter and blend together with the biscuits and a pinch of salt in a food processor until you have a very fine crumb (or bash with a rolling pin in a plastic freezing bag).
Layer the oven dish with baking paper, press the biscuits mixture onto the bottom and bake for 20 minutes in the oven.
Mix the corn flour with a tablespoon of water into a paste and add together with the rest of the cream cheese layer ingredients to the food processor and blend until completely mixed (or mix with a hand mixer or whisk).
Add the cream cheese layer to the baking tray and bake for 10 minutes. Remove from the oven and add dollops of the rhubarb onto the cream cheese layer. Swirl the rhubarb with a knife and bake for another 10 minutes. Turn of the oven and leave to stand the cheesecake in the oven for another 30 minutes.
Once done, cool the cheesecake completely and serve! You can keep the cheesecake in the fridge for a couple of days or freeze the squares up to two months.
Recipe Video :
YOU MIGHT ALSO LIKE
ORDER MY EBOOK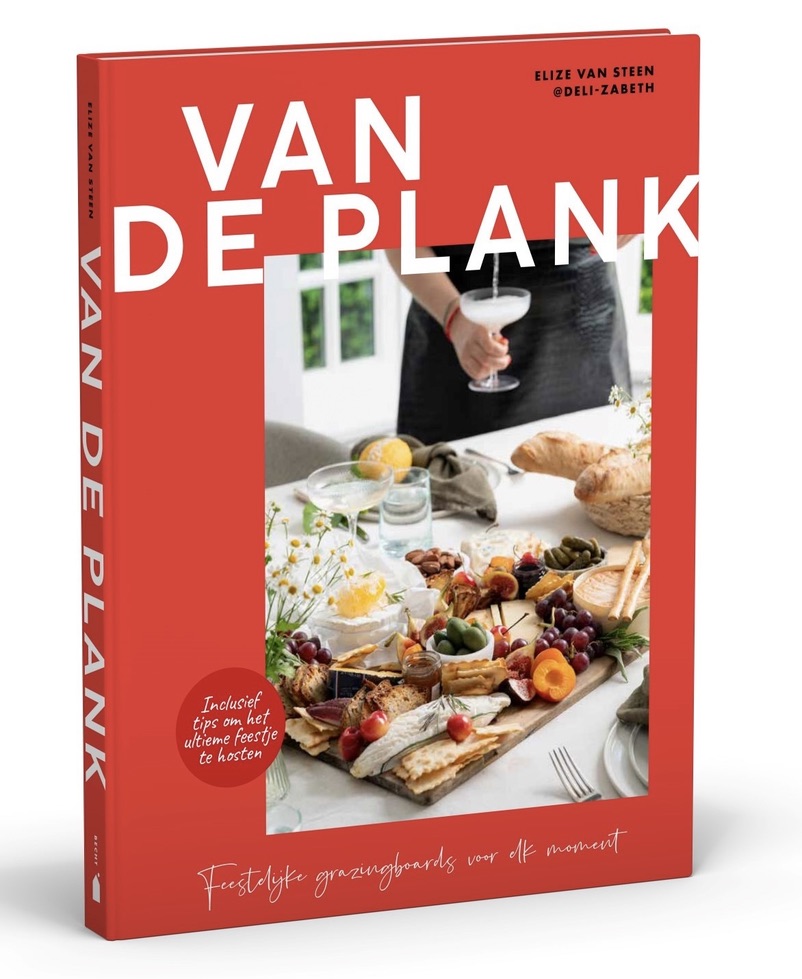 WORK WITH ME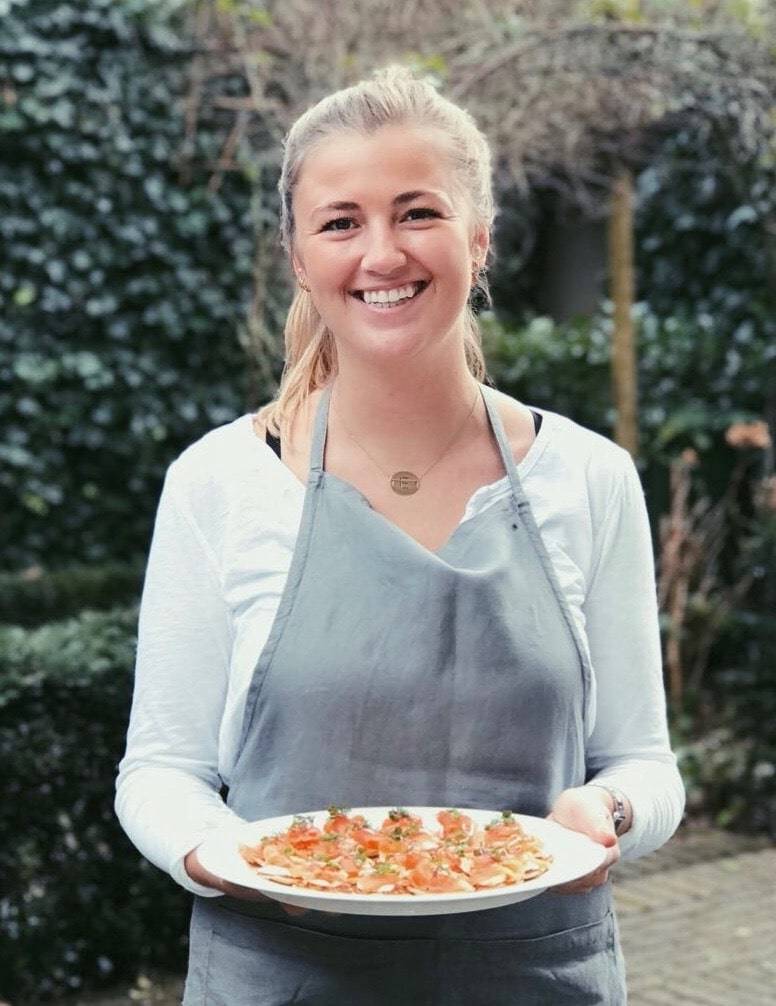 Together, we can create outstanding food experiences. I'm experienced in multiple fields and would love to tell you more about it. Click on the button below to read more about my work and to get in touch!
WORK WITH ME