Recipes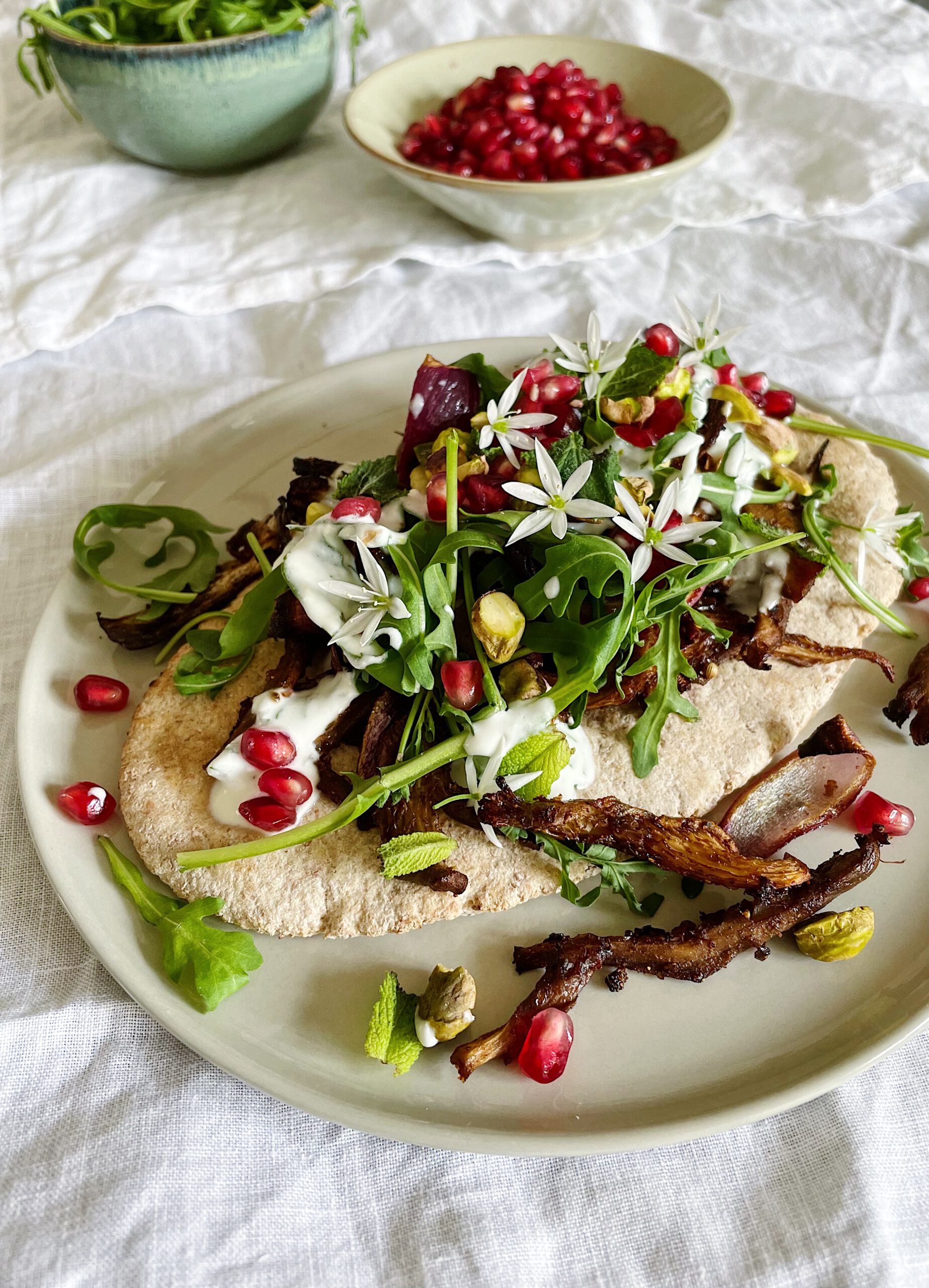 Pita's with spiced oyster mushrooms, feta-dill yoghurt, pomegranate, rocket and pistachio
Season :All Servings :4 Diet :Vegetarian Time :30 minutes Difficulty :Easy
These pita's are made within 30 minutes! Tip: Buy double the amount of pita's and extra oyster mushrooms because you'll definitely want to go for a second round.
INGREDIENTS
4 (whole wheat) pita's/ flatbread/ naan
100 gr. rocket
150 gr. pomegranate seeds
Handful of mint 
Handful pistachio nuts
Spiced oystermushrooms
600 gr. oyster mushrooms 
3 tsp. ras el hanout spice
4 tbsp. pomegranate molasses (or honey)
4 tbsp. oil
3 cloves of garlic
2 red onions
salt and pepper
Feta-dill yoghurt
150 gr. feta
300 gr. full-fat yoghurt
1 tbsp. olive oil
15 gr. dill 
PREPARATION
Preheat the oven to 200 degrees and cover a baking tray with baking paper.
Tear the oyster mushrooms into strips, cut the onions into quarters and spread them out on the baking tray. Mix the ras el hanout, chopped garlic, pomegranate molasses, oil and a pinch of salt and pepper together and pour over the oyster mushrooms and red onions. Mix well so that all the oyster mushrooms are coated in the marinade and bake in the oven for 15-20 minutes until golden brown and crispy.
Meanwhile, shortly mix the feta, olive oil and full yogurt with a hand blender until smooth and mix in the chopped dill.
Heat the pita's in the oven and spoon the oyster mushrooms on top or inside. Spoon the feta-dill yoghurt over the oyster mushrooms and finish with the rocket, pomegranate seeds, torn mint and coarsely chopped pistachios.
Recipe Video :
ORDER MY EBOOK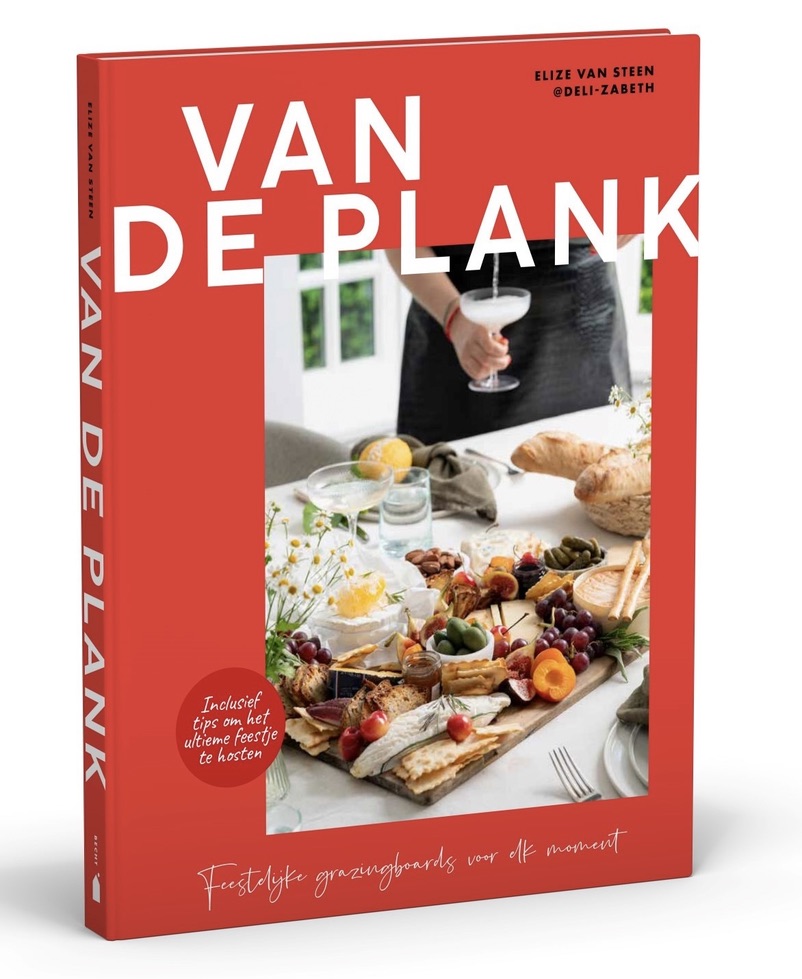 WORK WITH ME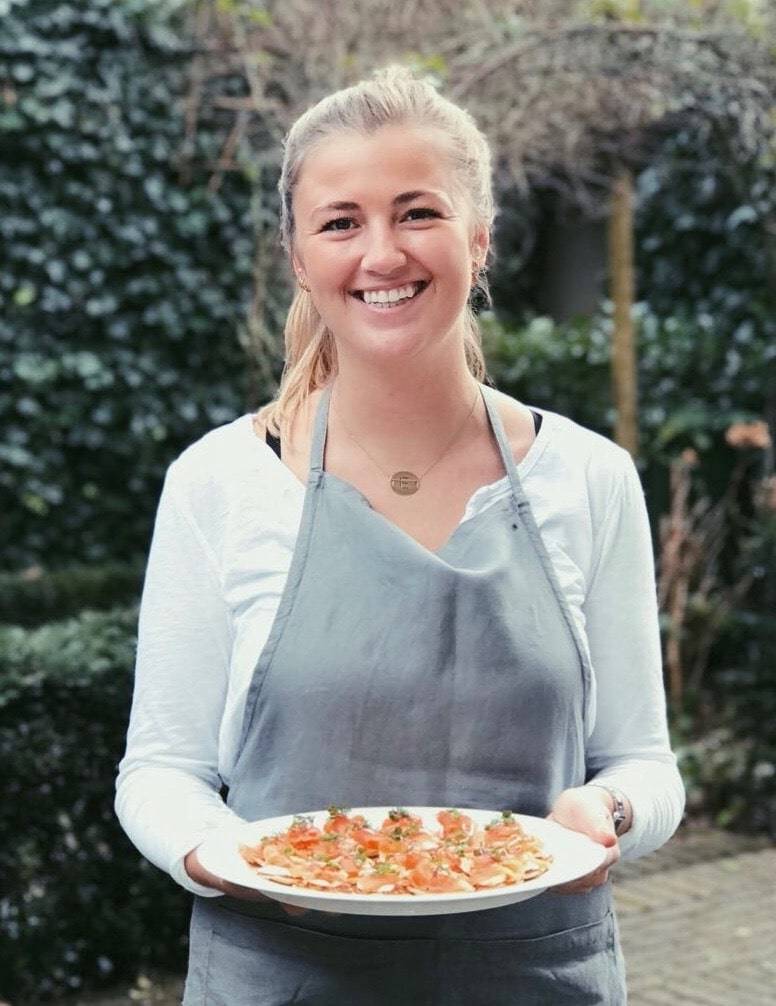 Together, we can create outstanding food experiences. I'm experienced in multiple fields and would love to tell you more about it. Click on the button below to read more about my work and to get in touch!
WORK WITH ME