Recept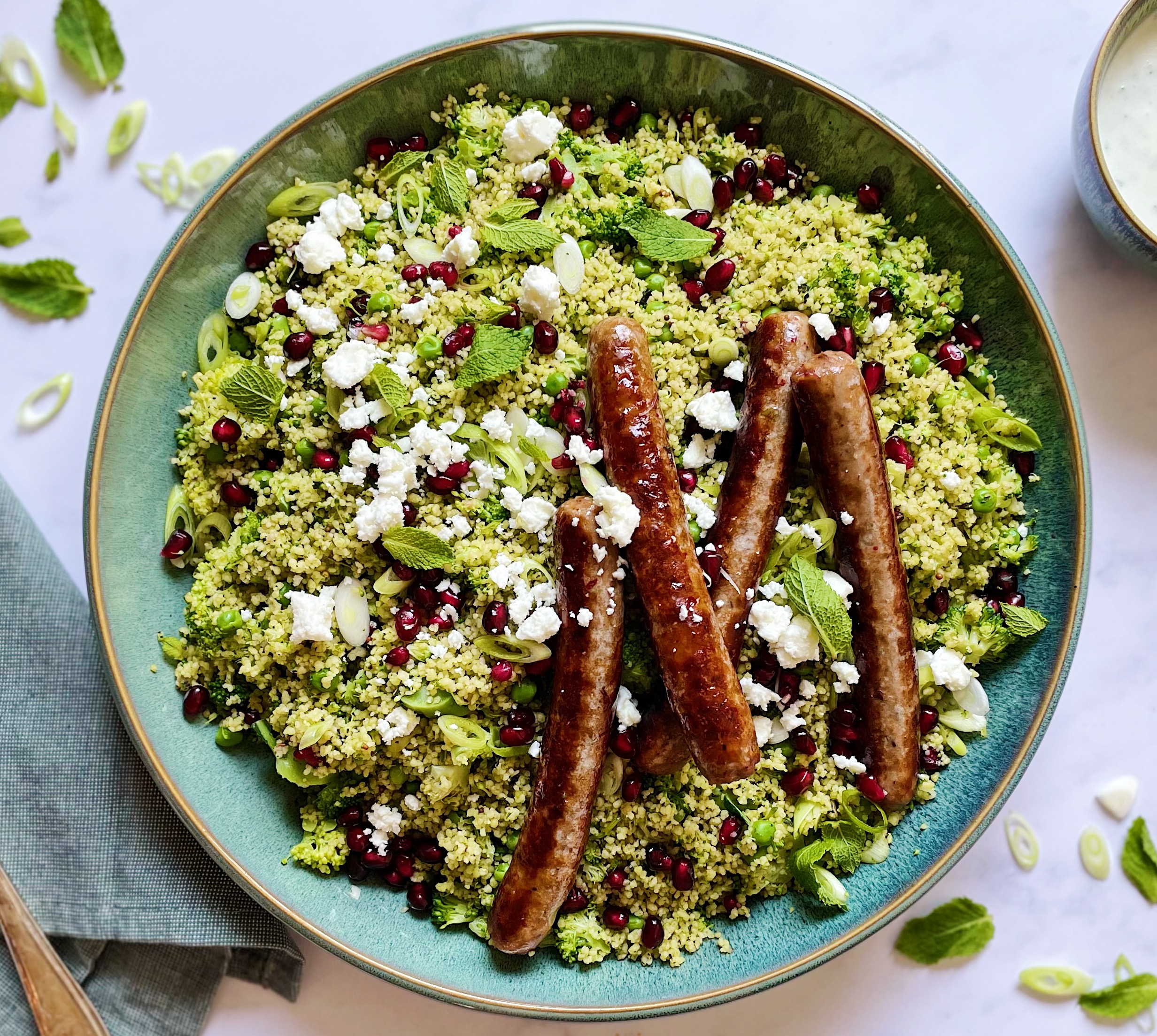 Herby couscous with chipolata sausages
SEIZOEN :All AANTAL :4 DIEET :X (Vegetarian option) TIJD :30 minutes MOEILIJKHEIDSGRAAD :Easy
The new Unox chipolata sausages consist of more than 30% of various vegetables, legumes and/or cheese. This makes the sausages extra tasty and contains less meat. The chipolata beef sausages with bell pepper and kidney beans go perfectly with this deliciously spicy couscous, and the fresh yoghurt sauce completes the dish! This is delicious for summer evenings on the bbq! If you have leftovers, it may taste even better the day after for lunch. The sausages are available at the Jumbo (Dutch supermarket).
INGREDIËNTEN
2 packages Unox chipolata sausages with bell pepper and kidney beans or vegetarian sausages
300 gr. couscous
300 gr. broccoli florets
200 gr. frozen peas
150 gr. feta cheese
100 gr. pomegranate seeds
3 spring onions
Herb dressing
30 gr. parsley
15 gr. mint
2 tbsp. cider vinegar
4 tbsp. extra virgin olive oil
1 tsp. honey
1-2 tsp. mustard
Pinch of salt and pepper
300 gr. Greek yogurt (10% fat)
15 gr. mint
Juice of half a lemon
BEREIDING
Chop the mint for the yoghurt sauce and mix with the Greek yoghurt, lemon juice and a pinch of salt and pepper and keep in the fridge until needed.
Mix the couscous with 400 ml boiling water and ½ tsp fine salt in a bowl, cover and leave to soak for 5 minutes. Then loosen the couscous with a fork.
Meanwhile, cook the broccoli florets for 5 minutes and add the peas for the last 30 seconds and drain well. Roughly chop the broccoli and add it to the couscous along with the peas.
For the herb dressing, mix all the ingredients (parsley, mint, cider vinegar, olive oil, honey, mustard, salt and pepper) together and puree with a hand blender until you have a smooth dressing. Mix the dressing into the couscous.
Cut the spring onions into thin strips, crumble the feta and add to the couscous along with the pomegranate seeds. Taste the couscous and season with some extra salt and pepper if necessary.
Fry the chipolata sausages according to the package.
Serve the couscous warm or at room temperature with the chipolata sausages and the yoghurt sauce on the side.
DEZE GERECHTEN VIND JE MISSCHIEN OOK LEKKER
BESTEL MIJN EBOOK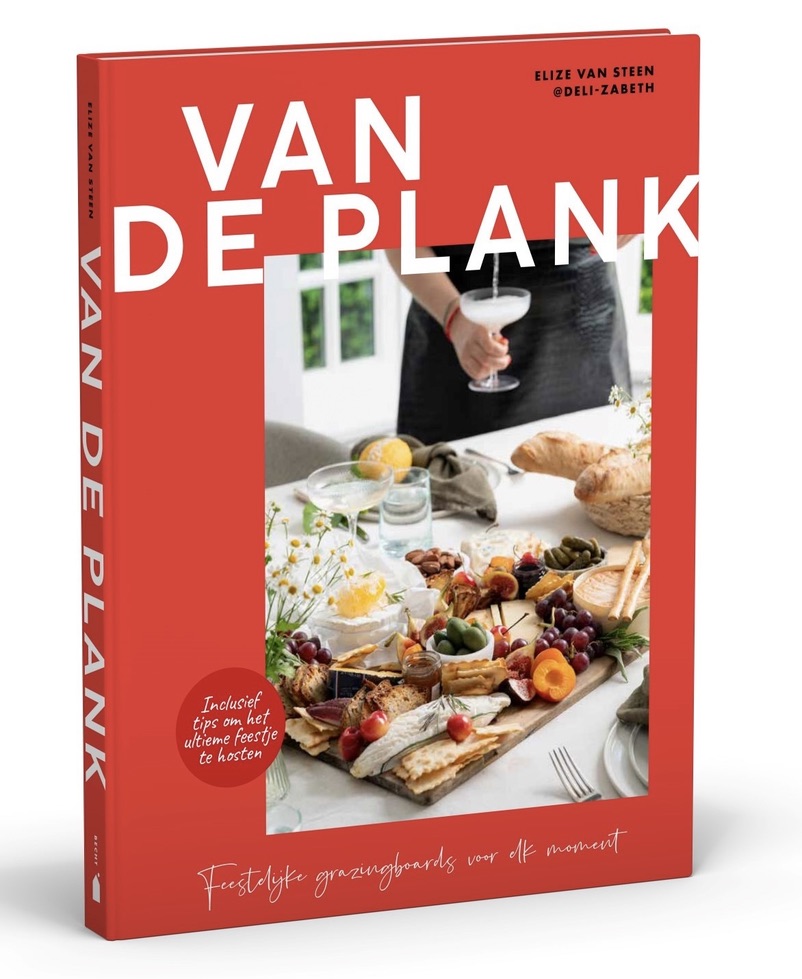 samenwerken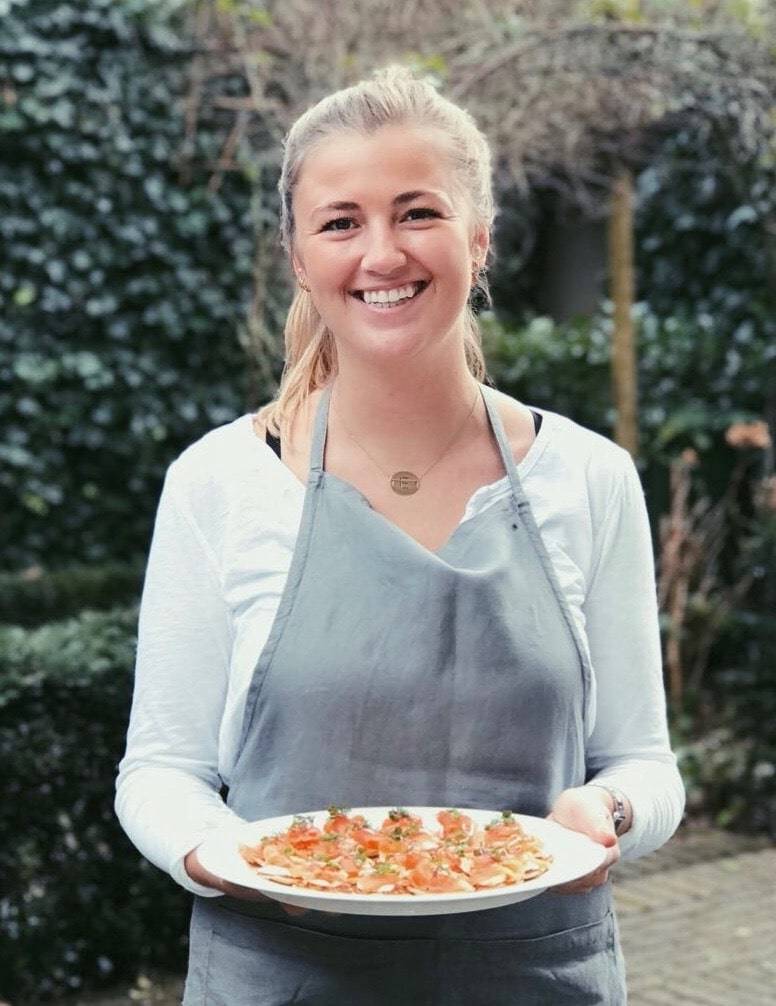 Samen kunnen we bijzondere voedselervaringen creëren. Ik heb ervaring op meerdere gebieden en vertel je er graag meer over. Klik op onderstaande button voor meer informatie.
samenwerken