Recipes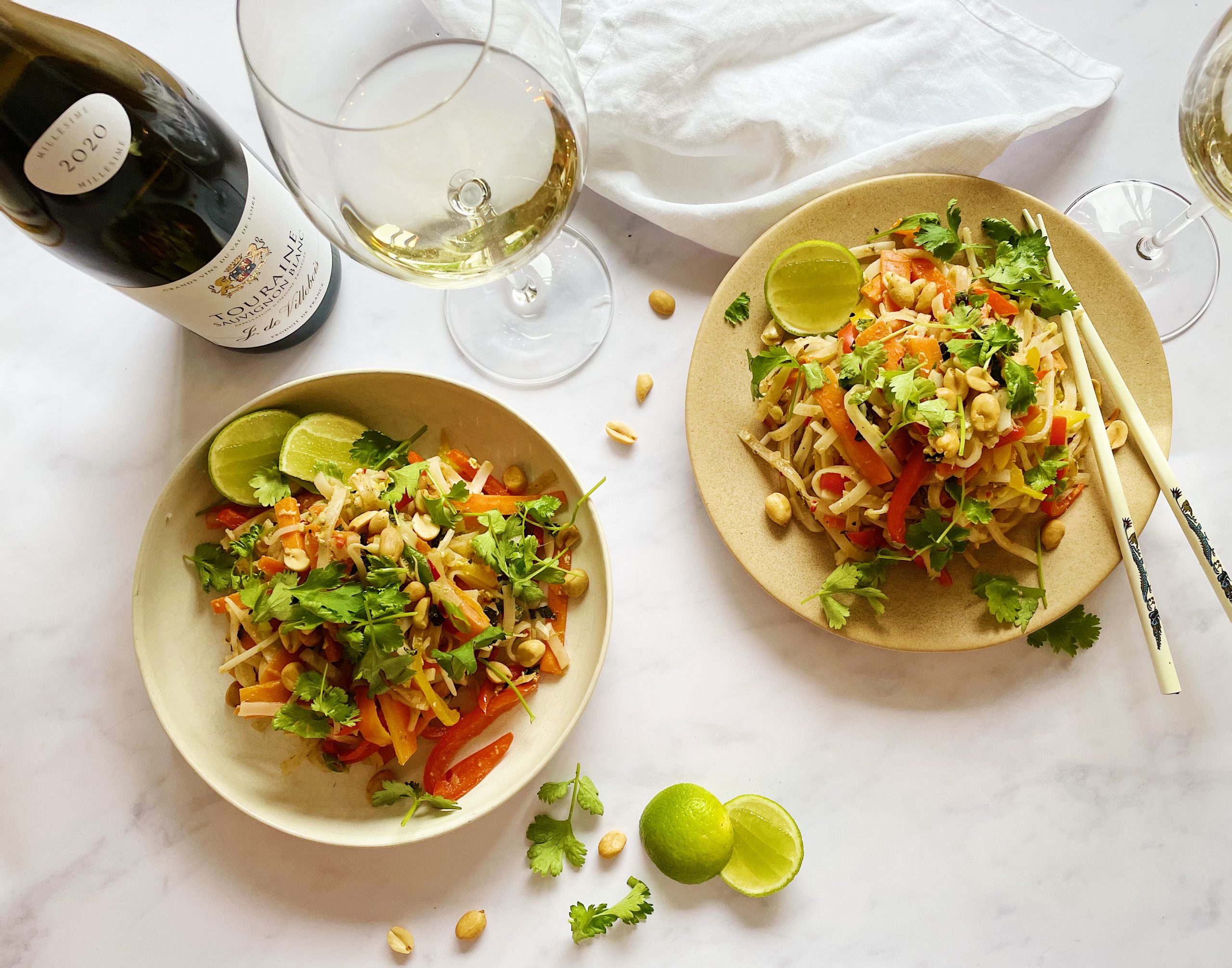 Veggie pad thai
Season :All Servings :2 Diet :X (Vegetarian if you swap the fish sauce for soy sauce) Time :30 minutes Difficulty :Easy
This Pad Thai is really easy and quick to make so it is the perfect weeknight dinner. If you like to add some extra protein, fried prawns would be great! I created this recipe for J. de Villebois to pair with their delicious Touraine Sauvignon Blanc. This racy and clean Sauvignon Blanc is the perfect counterpart for a classic Pad Thai. The refreshing vibrancy and intense vegetal flavours including gooseberrys and green asparagus compliment the classic Thai flavours of tamarind, lime, garlic and red chilli pepper.
INGREDIENTS
1 clove of garlic
2 limes
½ red chili pepper
2 tbsp. neutral oil (like canola of sunflower oil)
Bunch of coriander
125 gr. rice noodles
2 bell peppers (red and orange)
1 large carrot
50 gr. bean sprouts
2 spring onions
2 tbsp. of fish sauce
1 tsp. sugar
1 tsp. tamarind paste
1 egg
Handful of peanuts
Few sprigs of mint
1 bottle Touraine sauvignon blanc, J. de Villebois
PREPARATION
Soak the noodles in warm water according to the package, drain and rinse with cold water and set aside.
Finely chop the garlic, coriander stalks (use the leaves for garnish) and red chili pepper (deseeded) and mix together with the grated zest of one lime.
Chop the carrot and bell peppers in thin matchsticks and finely slice the spring onions.
Heat neutral oil in a wok or frying pan until smoking hot and fry the garlic mixture for about 1 minute. Add in the carrot and bell peppers and cook for about 5 minutes until just tender.
Add in the rice noodles, bean sprouts, spring onion, finely sliced mint, juice of one lime, sugar, tamarind and fish sauce and cook for 2 minutes mixing everything together.
Beat the egg lightly and pour into the noodles, allow to set slightly and mix into the noodles.
Divide the noodles between two plates and garnish with the coriander, chopped peanuts and lime wedges.
Recipe Video :
ORDER MY EBOOK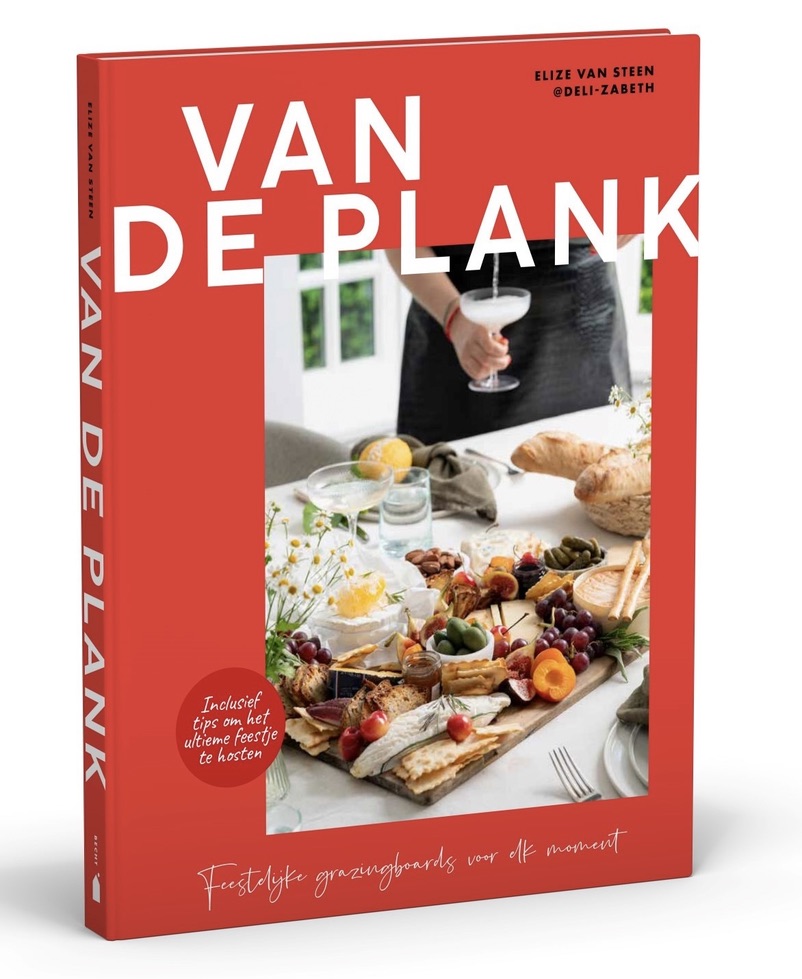 WORK WITH ME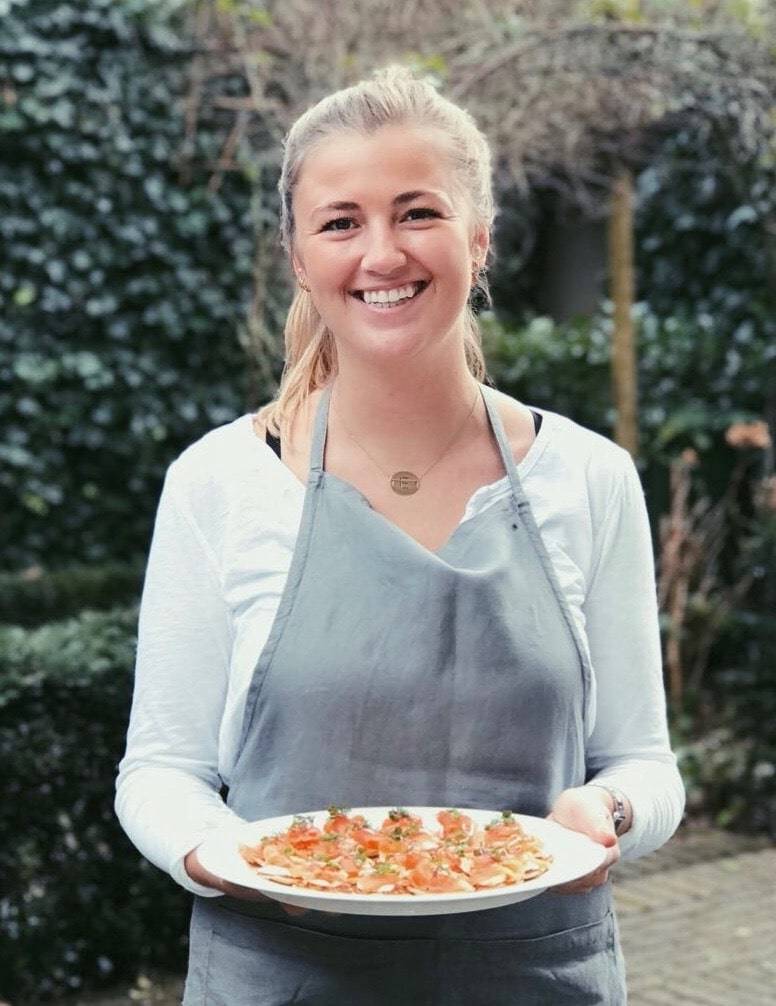 Together, we can create outstanding food experiences. I'm experienced in multiple fields and would love to tell you more about it. Click on the button below to read more about my work and to get in touch!
WORK WITH ME