Recipes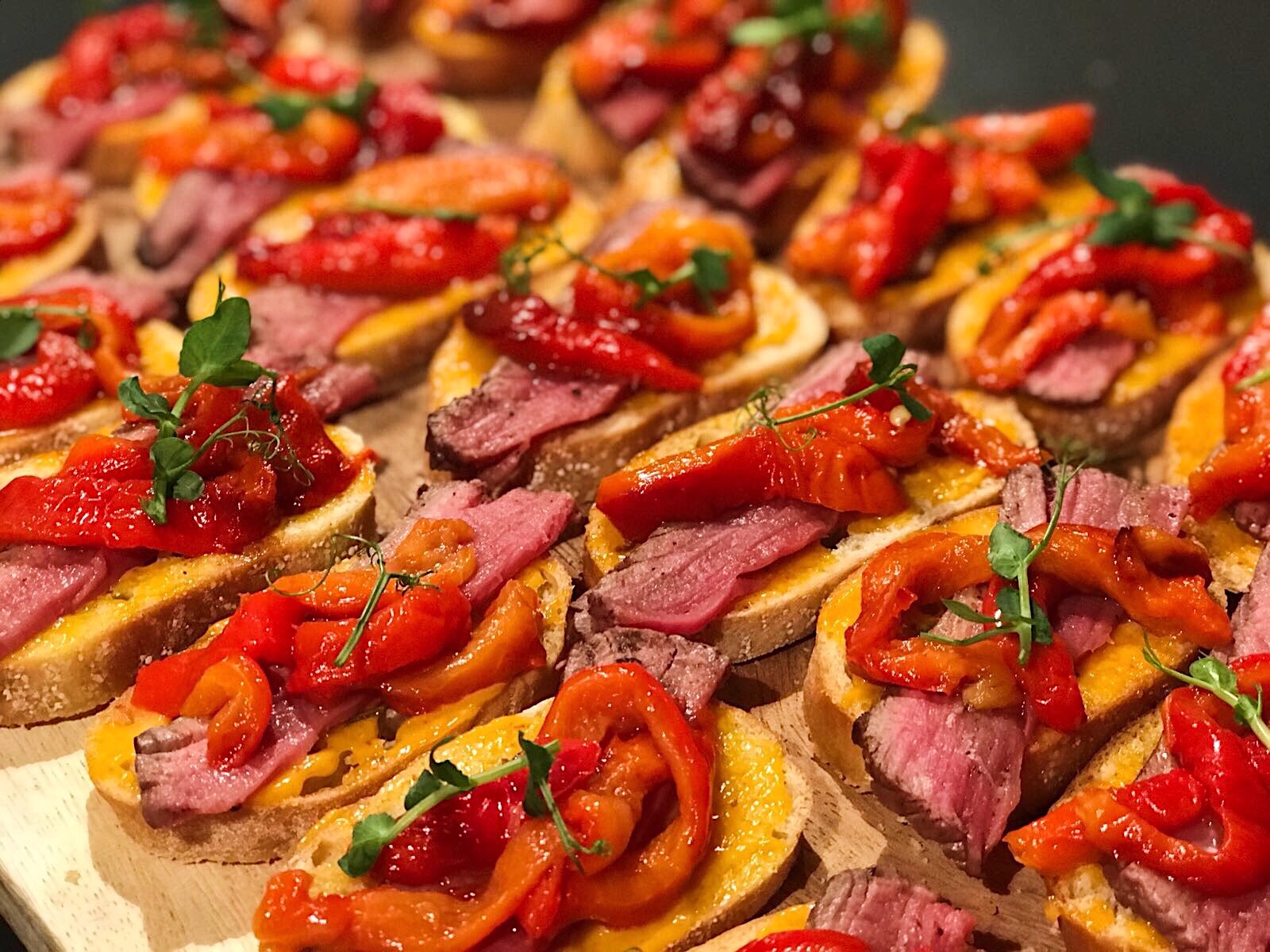 Steak bruschetta with harissa mayonnaise and roasted red pepper
Season :All Servings :makes about 15-20 Diet :X Time :45 minutes Difficulty :Medium
This delicious bruschetta will surely be a success when serving.  Making your own mayonaise literally takes 5 minutes and makes all the difference, but don't feel like the effort, a good quality mayo from the supermarket or deli will work as well.
INGREDIENTS
1 heaped tsp. of Dijon mustard
2 egg yolks
1 tbsp. of white wine vinegar
Pinch of salt
175 ml. neutral oil like sunflower
50 ml. of olive oil
Harissa (to your tasting)
Baguette
Clove of garlic
300-400 gr. of good quality steak
3 red bell peppers
Optional garnish: pea shoots or chives
PREPARATION
Start by making the mayonaise. Whisk together the mustard, egg yolks, vinegar and salt. Then slowly add the oil and keep whisking until it is emulsified. Taste and add a pinch of salt or a little more Dijon If needed and add the harissa depending on how spicy you like it.
Grill the red peppers in a griddle pan, on the flame of your stove top or in the oven and put the grill on the highest setting. Turn regularly until all sides are charred and put the peppers in a bowl, covered with cling foil and let it steam for about ten minutes. Peel of the skin and slice in thin slices.
Preheat the oven to 180C. Slice the baguettes in thin slices. Cut the garlic clove in half, give the slices a rub with the garlic and drizzle over some olive oil. Bake in the oven for about 5-10 minutes until crispy and golden.
Heat a griddle pan on a high heat, season your steak with a good pinch of salt and pepper and drizzle over some olive oil. Grill your steak a couple of minutes on each side, depending on how thick your steak is until medium rare. Once cooked, let it rest for a couple of minutes on a plate and slice with a sharp knife in thin slices.
The last step is assembling the bruschetta's. Spread some harissa mayonaise over the baguette, add one or two slices of steak and top with the roasted red pepper and your garnish of choice and serve immediately!
YOU MIGHT ALSO LIKE
ORDER MY EBOOK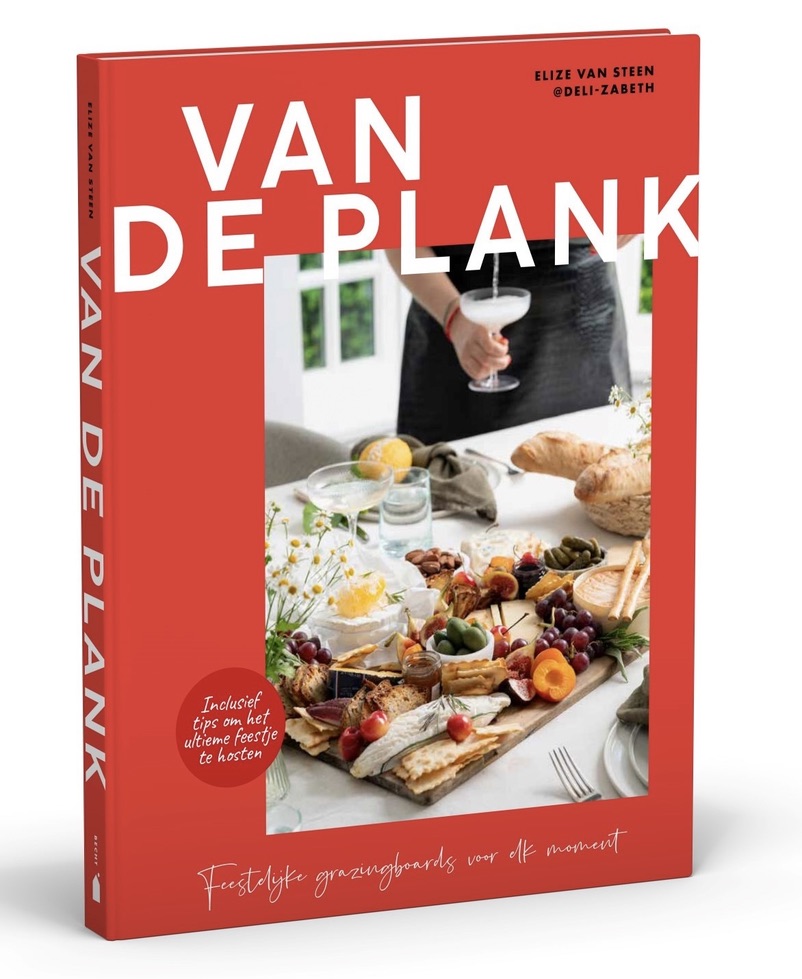 WORK WITH ME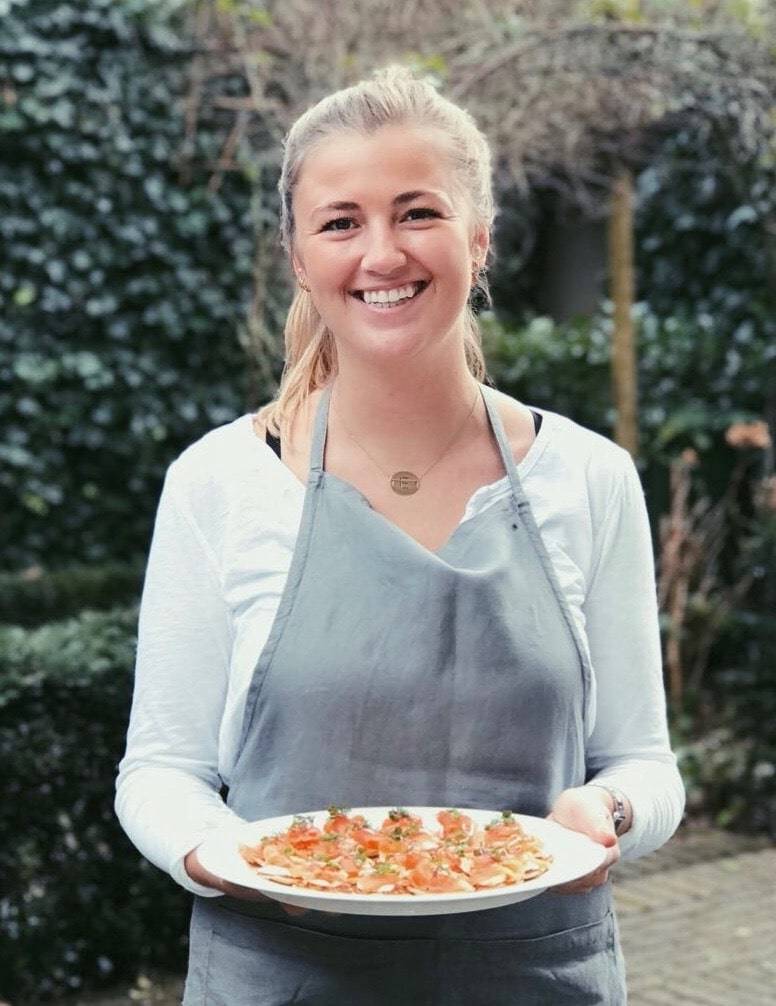 Together, we can create outstanding food experiences. I'm experienced in multiple fields and would love to tell you more about it. Click on the button below to read more about my work and to get in touch!
WORK WITH ME