Recipes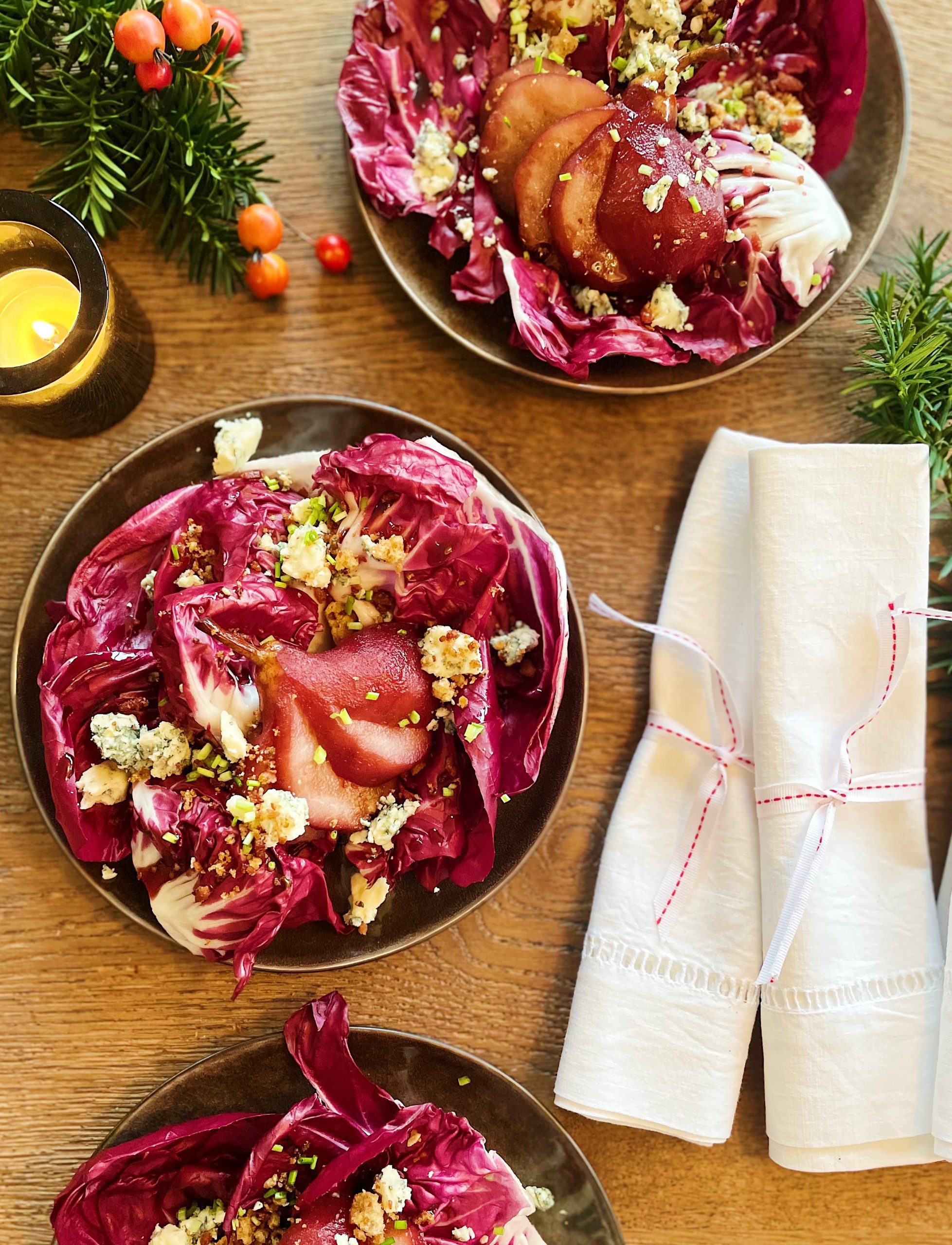 Christmas salad with poached red wine pears and blue cheese
Season :Winter Servings :6 Diet :X Time :60 minutes Difficulty :Medium
This salad could be the perfect Christmas starter! This dish has classic flavours with a deli-zabeth twist. Hot and cold, sweet, salty, bitter, sour, crunchy, soft and so on! You can poach the pears up to two days ahead but keep in the liquid and reduce until syrupy just before serving your dish.
INGREDIENTS
6 small pears
1 bottle of dry red wine
3 strips of orange zest
2 sprigs of thyme
225 gr. crystal sugar
2-3 radicchio
100 gr. sourdough bread
125 gr. bacon
150 gr. Roquefort
Chives
Balsamic vinegar
Extra virgin olive oil
PREPARATION
Peel the pears but keep the stalk intact. Put the sugar, orange zest, thyme and pour the bottle of wine in a pan and heat until the sugar is dissolved. Add the pear to the liquid and simmer for about 30 minutes or until soft. (depends on the ripeness and size of your pears) When the pear is completely cooked, remove from the pan, turn up the heat and let it boil until your liquid is reduced and syrupy.
Meanwhile fry the bacon until golden and crispy, remove from the frying pan and pulse together with the sourdough bread in a food processor until you have a crumbly mixture. Don't wash the pan with the bacon fat yet, you will need this in a bit. If you don't have a food processor, finely chop the bacon and bread together until crumbly. Add the mixture back to the pan with the bacon fat, adding a pinch of salt, and fry until crispy.
Wash and tear the radicchio in bitesize pieces, crumble the Roquefort and finely slice the chives.
To assemble, start with a large handful of the radicchio per plate. Slice the pear in slices but not all the way through so the pear is still attached at the end of the stalk. Place the pear over the radicchio. Crumble over the Roquefort, sourdough/ bacon crumb and chives and finish with a teaspoon of the reduced wine syrup, a drizzle of balsamic and extra virgin olive oil and serve immediately.
ORDER MY EBOOK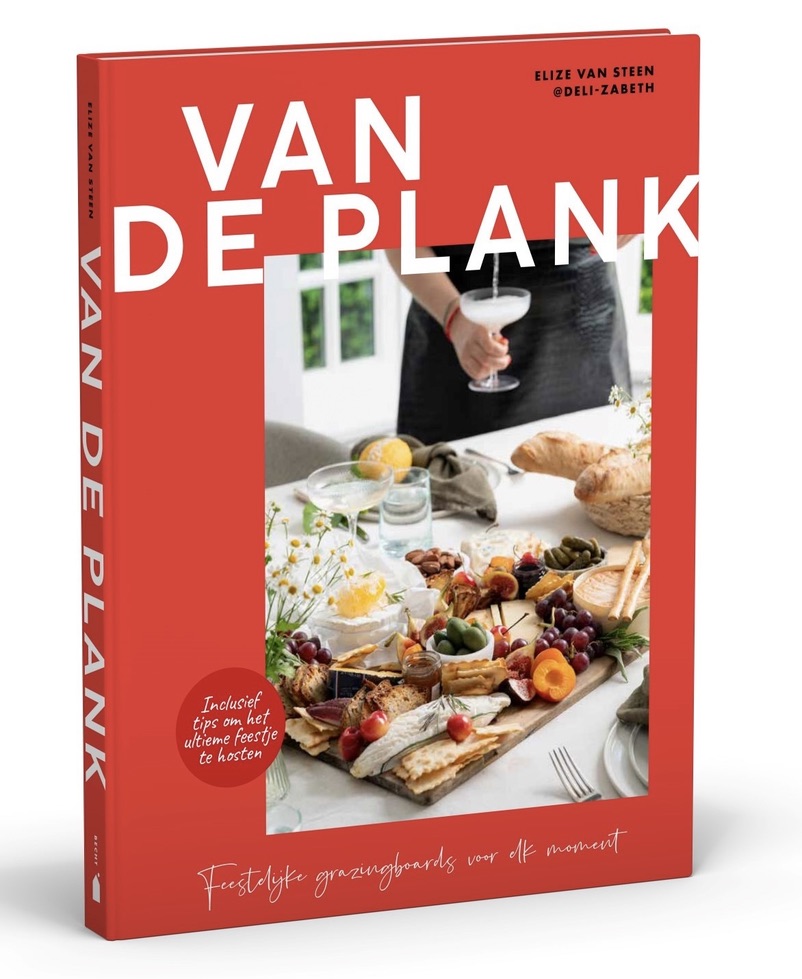 WORK WITH ME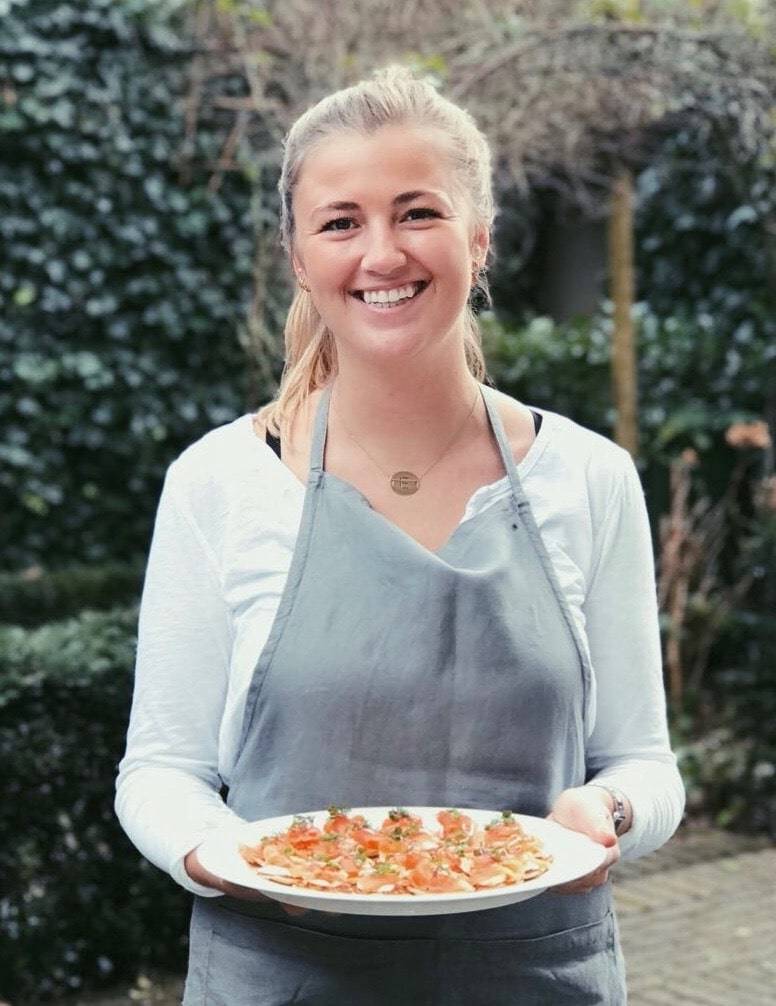 Together, we can create outstanding food experiences. I'm experienced in multiple fields and would love to tell you more about it. Click on the button below to read more about my work and to get in touch!
WORK WITH ME