Recipes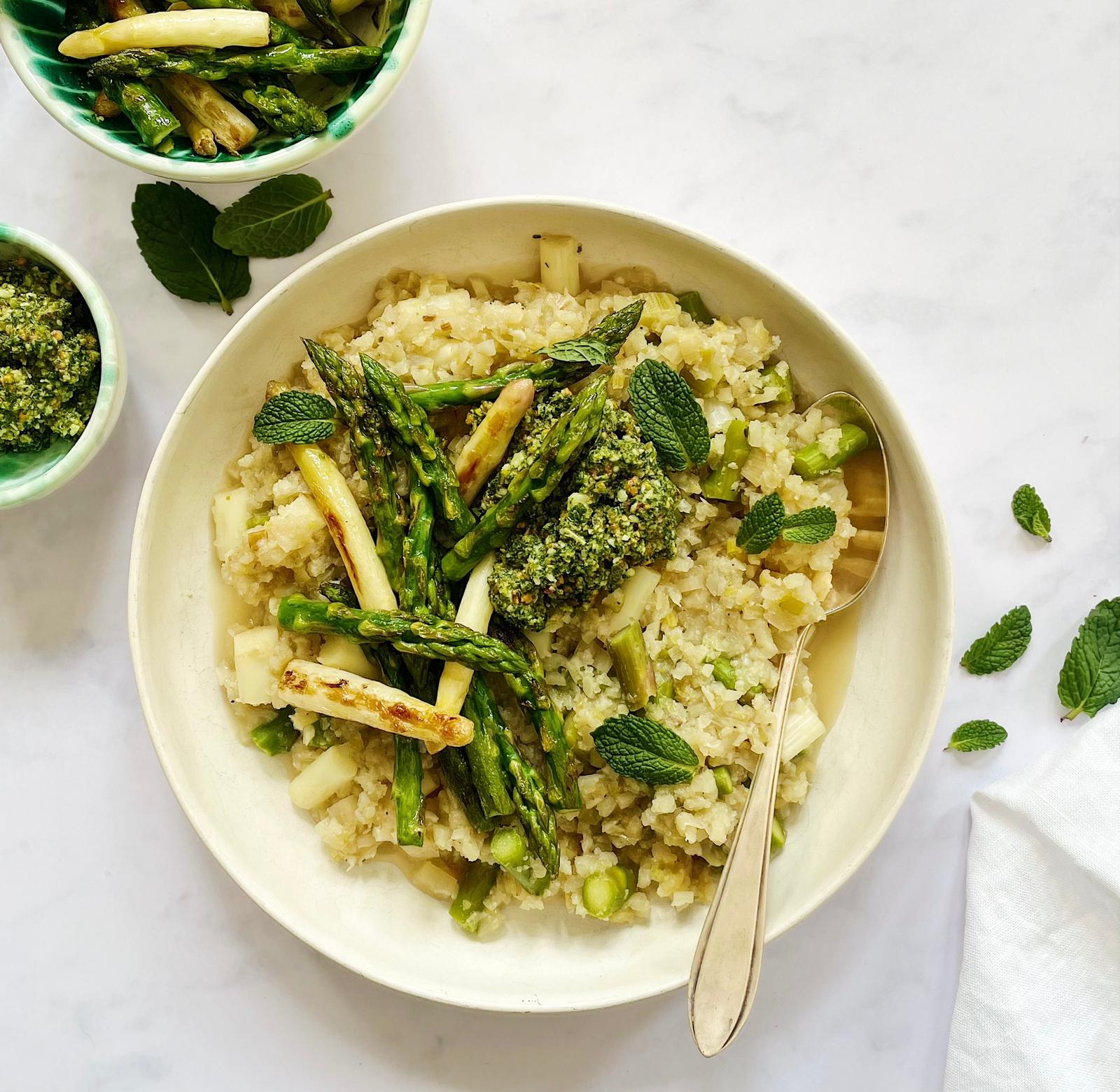 Cauliflower Rice Risotto With Asparagus And Mint Pistachio Pesto
Season :Spring Servings :4 Diet :Vegetarian, Gluten free Time :40 minutes Difficulty :Medium
This is not your classic risotto dish but if you want a light and healthy but very flavourful dinner this is the perfect recipe! I love the combination of asparagus with the mint and pistachio pesto but garden peas, broad beans or courgette will work great as well.
INGREDIENTS
1 fennel
2 leeks
2 cloves of garlic
Handful of thyme
Knob of butter
200 ml. of white wine
800 gr. of cauliflower rice • 1 litre of vegetable stock
600 gr. of asparagus (I used green and white asparagus)
The zest of a lemon
Grated parmesan
Salt and pepper
Mint and pistachio pesto
40 gr. Parmesan
30 gr. Mint
30 gr. pistachio nuts unshelled
Squeeze of lemon juice
Black pepper and pinch of salt
Good quality extra virgin olive oil (very important otherwise your pesto might become bitter)
PREPARATION
Finely chop the fennel and garlic and slice the leek in halved rings (after a good rinse to remove all the dirt). Heat a knob of butter in a casserole and add the fennel, garlic, leek and thyme and fry for about 10 minutes on a medium heat until soft.
Add the wine and let it reduce until evaporated. Then, add the cauliflower rice and the stock and let it simmer for about 10 minutes.
Scoop out 300 ml of the cauliflower rice mixture and blend with a (hand) blender or food processor until smooth, and add it to the casserole again.
Slice the asparagus in 1-2 cm pieces, add to the casserole and let it cook into the cauliflower rice risotto for 10 minutes. Turn off the heat and season the risotto with lemon zest, grated parmesan, salt and black pepper.
Meanwhile make the mint and pistachio pesto by blending all the ingredients together in a food processor or with a hand blender and slowly add the olive oil until you have the preferred consistency.
Serve the cauliflower rice risotto warm with a big dollop of pesto.
ORDER MY EBOOK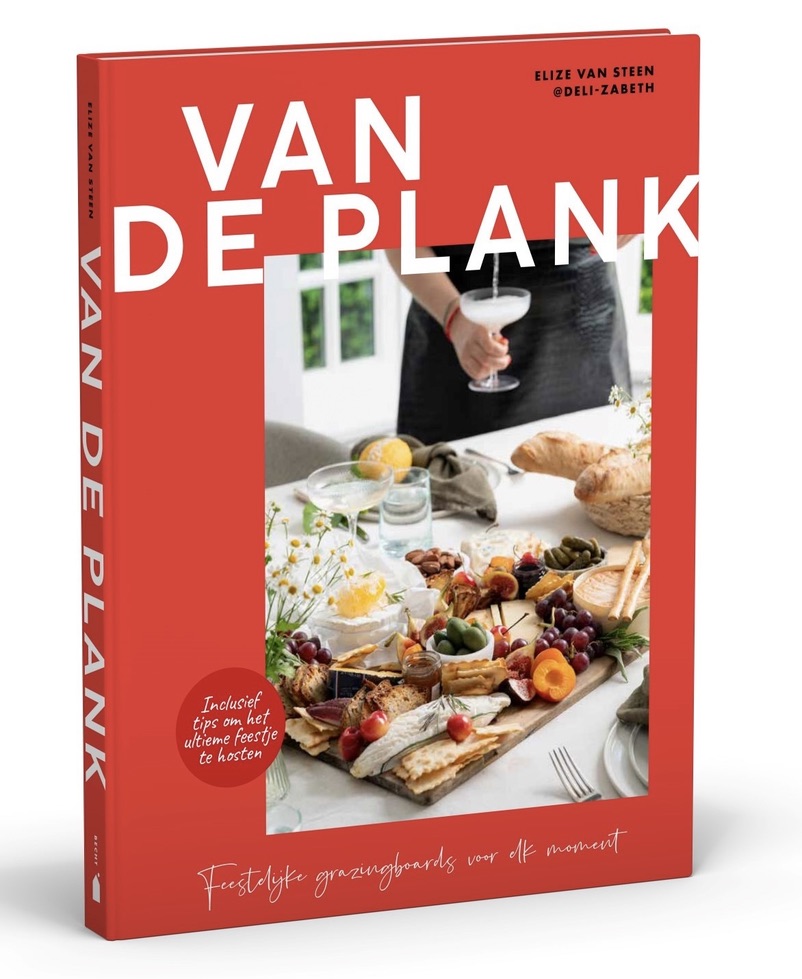 WORK WITH ME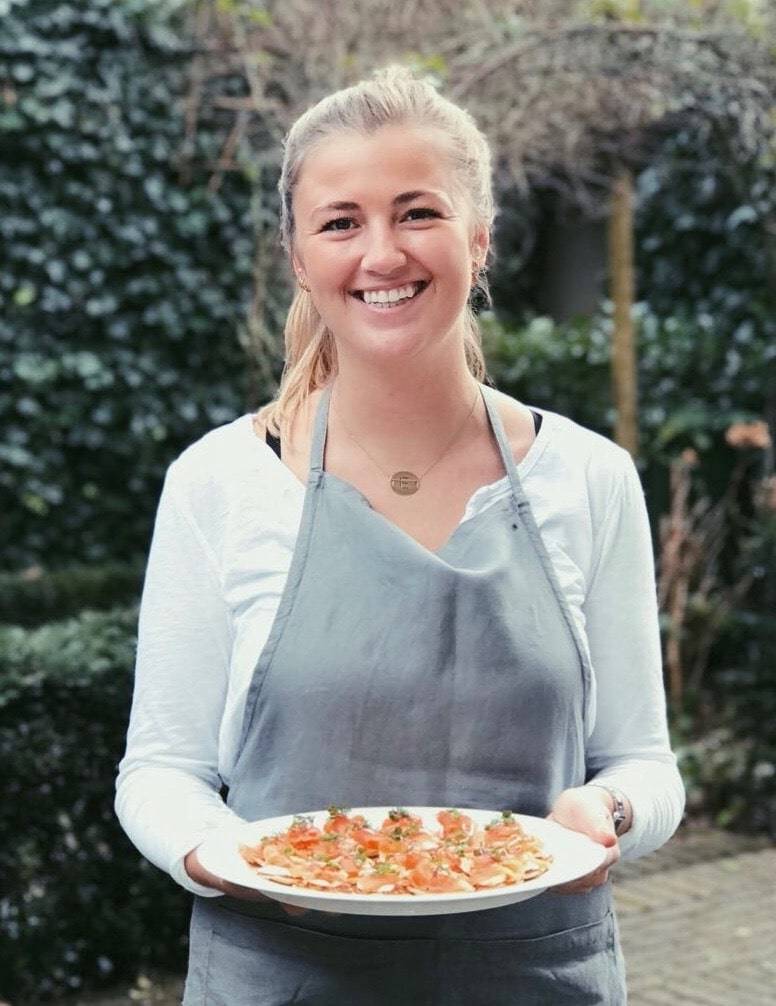 Together, we can create outstanding food experiences. I'm experienced in multiple fields and would love to tell you more about it. Click on the button below to read more about my work and to get in touch!
WORK WITH ME