Recipes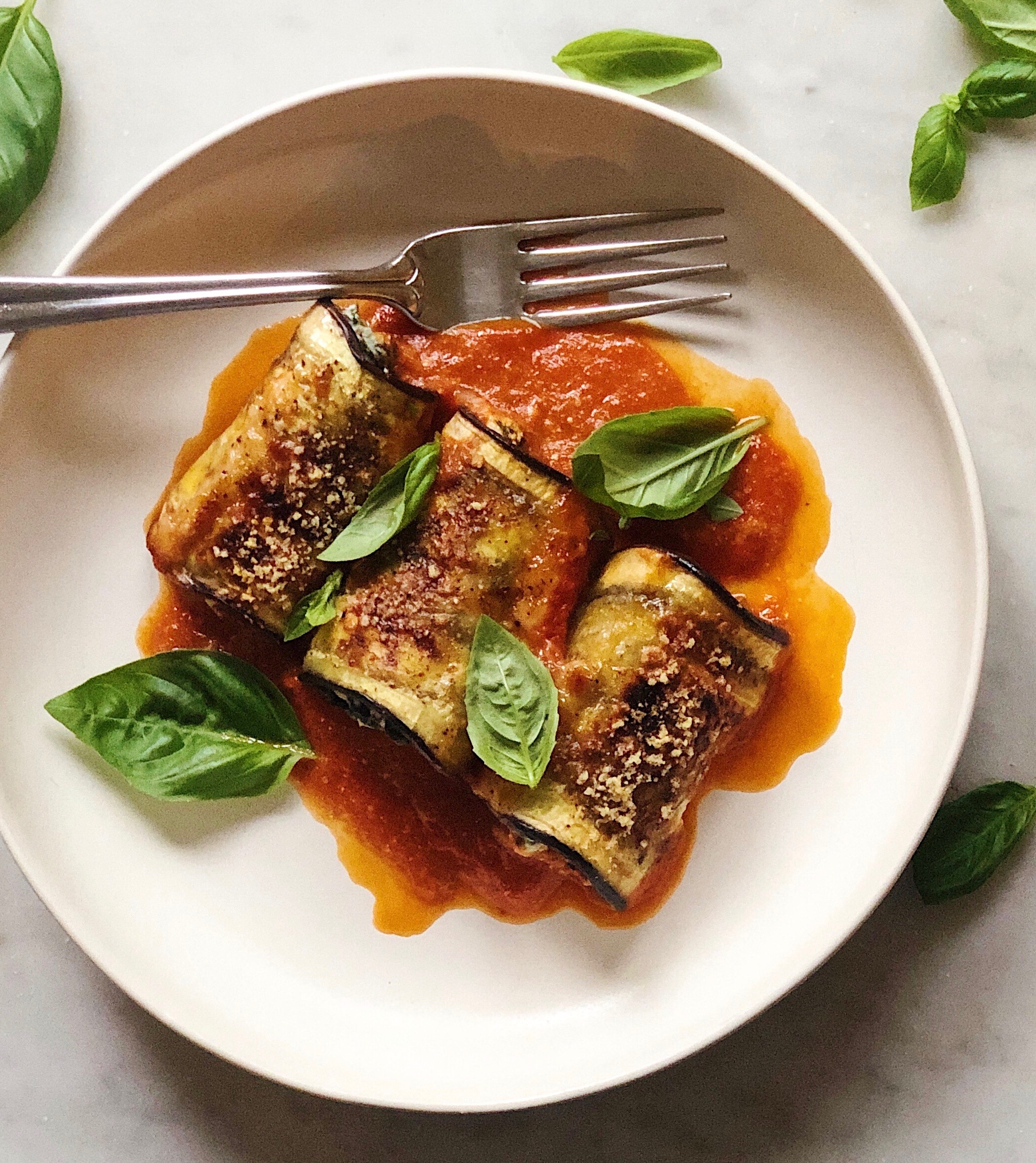 Italian aubergine rolls filled with ricotta and spinach in tomato sauce
Season :Summer Servings :2-3 Diet :Vegetarian, gluten free Time :1 hour Difficulty :Medium
These rolls are a variant on the traditional melanzane and taste super fresh and light.
INGREDIENTS
2 aubergines
250 gr. ricotta cheese
100 gr. parmesan
200 gr. spinach
1 clove of garlic grated
Zest of 1 lemon
Big handful of chopped basil leaves
Pinch of chili flakes
Tomato sauce
2 tins of tomatoes
2 cloves of garlic
2 red onions
1 tsp. sugar
Pinch of chili flakes
Ooptinal toppings
Grated parmesan
Basil leaves
PREPARATION
To prepare the tomato sauce, slice the onions and fry in a large pan on a low heat in olive oil until soft. Add the garlic, salt and pepper and after 3 minutes the rest of the sauce ingredients plus a splash of water and cook for 30 minutes. When ready blitz the sauce smooth with a hand blender.
Preheat the oven on the highest grill setting.
Meanwhile slice the aubergine lengthwise in slices, put them in a colander and add a big teaspoon of salt. This is to release some of the moisture out of the aubergines. Wash the salt of with water after 10 minutes and dry with a (paper) kitchen towel. Put them on a baking tray and drizzle over some olive oil, salt and pepper. Grill them in the oven on the highest setting until it is cooked and got a nice colour. Keep an eye on the aubergines because it can go really fast and you don't want to burn them.
When your aubergine is grilled, leave them to cool and preheat your oven to 180C.
Next, make the ricotta mixture. Cook the spinach for a minute and strain through a colander. Push out all the liquid with a big spoon.
Mix all the aubergine roll ingredients (ricotta, parmesan, spinach, garlic, lemon, basil and chili flakes) together, add a pinch of salt and pepper and divide onto the grilled aubergine slices and roll them up.
Add a layer of the tomato sauce in an oven dish and add the aubergine rolls on top of it.
Sprinkle over some extra parmesan and place in the oven for about 20 minutes.
Serve hot with some fresh basil on top!
ORDER MY EBOOK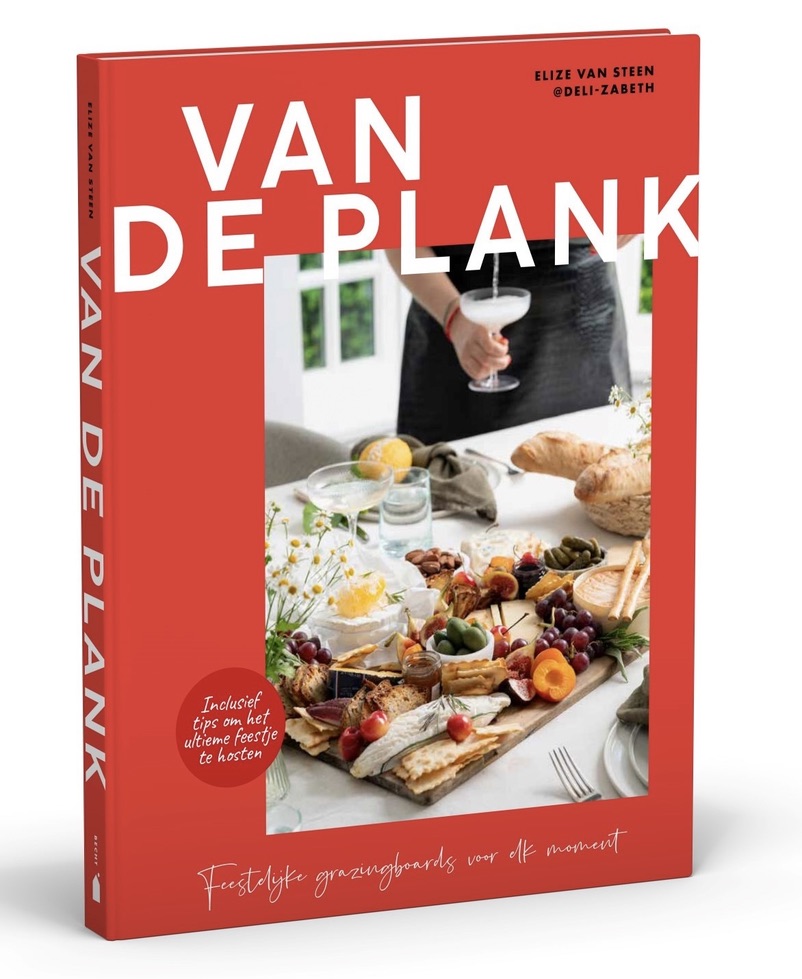 WORK WITH ME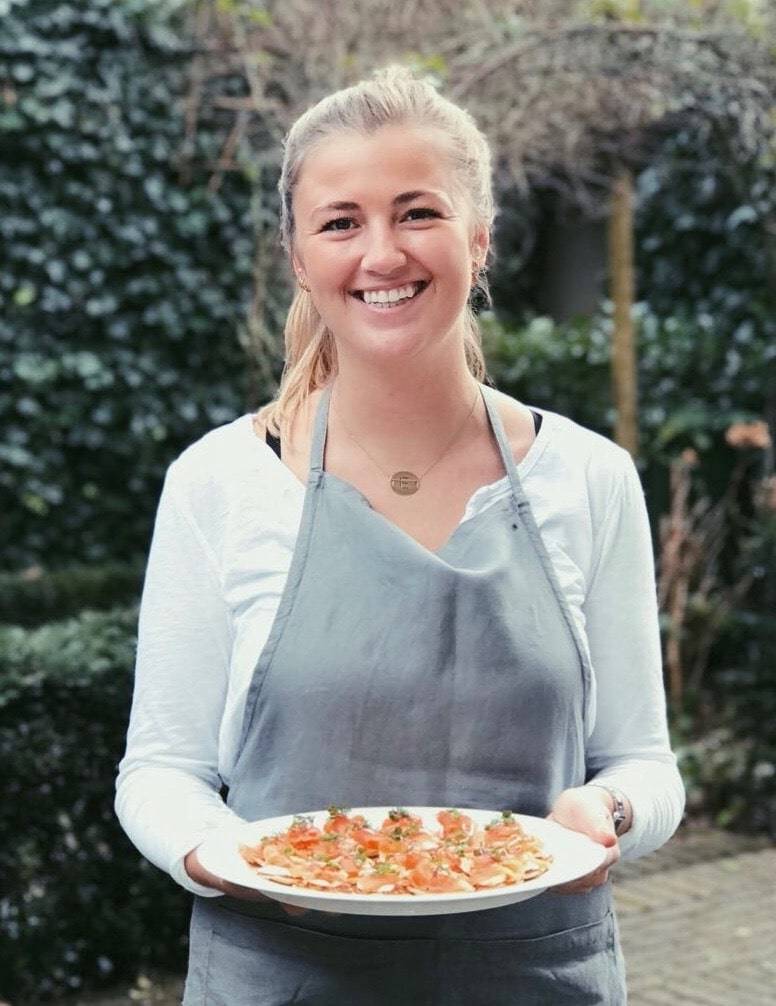 Together, we can create outstanding food experiences. I'm experienced in multiple fields and would love to tell you more about it. Click on the button below to read more about my work and to get in touch!
WORK WITH ME