Recipes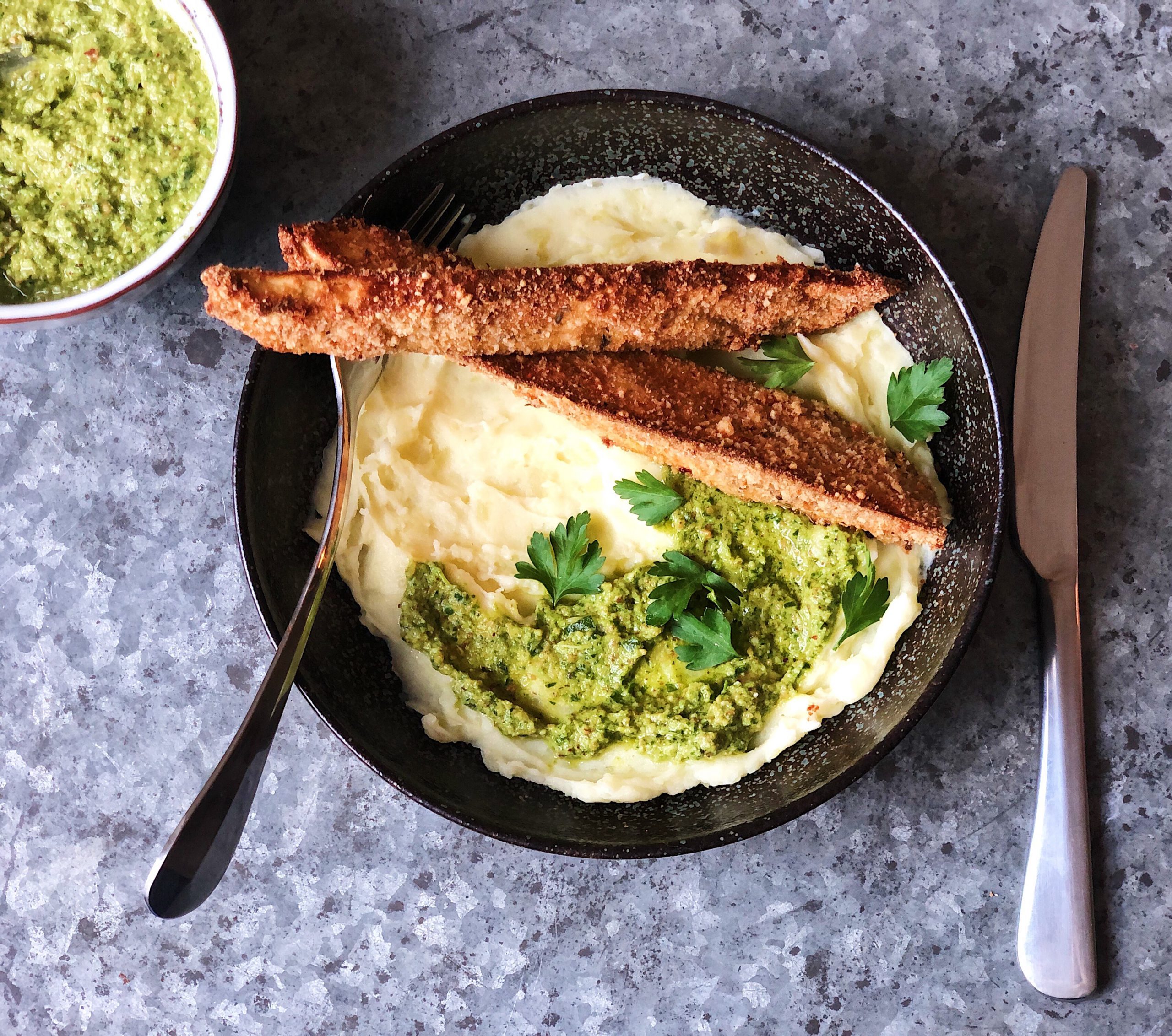 Crispy aubergine with celeriac mash and parsley pesto
Season :Winter Servings :4 Diet :Vegetarian Time :50 minutes Difficulty :Medium
Looking for vegetarian comfort food? Than this is the recipe for you! Creamy celeriac and potato mash with crispy cheesy aubergine and a lovely pesto sauce. Really simple and lots of flavour.
INGREDIENTS
2 aubergines
75 gr. flour
2 eggs
200 gr. panko
100 gr. of parmesan
1/2 tsp. of chili flakes
Celeriac and potato mash
4 potatoes peeled
300 gr. of celeriac peeled
A knob of butter
A splash of milk
Parsley and almond pesto
100 gr. Parmesan
1 big bunch of parsley
1 clove of (roasted) garlic
Juice and zest of half a lemon
100 gr. of almonds
50 ml. of extra virgin olive oil
Salt and pepper
PREPARATION
Preheat the oven to 200C.
Start with the parsley and almond pesto. Add all the above ingredients in a food processor (or a hand blender) and blitz until fairly fine in consistency. You can make a big batch and freeze the rest until needed for another speedy weeknight dinner!
Next, quarter the aubergine, and slice the quarters in halves again, so you end up with 8 slices. Make 3 bowls, one with the flour, one with the two whisked eggs, and the last one with panko, Parmesan, salt, pepper and the chili flakes. Firstly, coat the aubergine with flour, then dip in the whisked eggs and at last coat in the panko mixture. Place the aubergine on a baking tray and drizzle with olive oil. Bake in the oven for 25 minutes and serve immediately.
When the aubergine is in the oven, start by making the mash. For the mash, chop the celeriac and potatoes in similar size pieces and cook them for 15-20 minutes until tender. Drain and let them dry steam for a couple of minutes. Add the butter and milk and season with salt and mash until a fairly smooth consistency. Once ready, keep it warm with the lid on.
Serve by adding a large spoonful of the mash to a plate, top it with the aubergine and finish with a dollop of the pesto.
ORDER MY EBOOK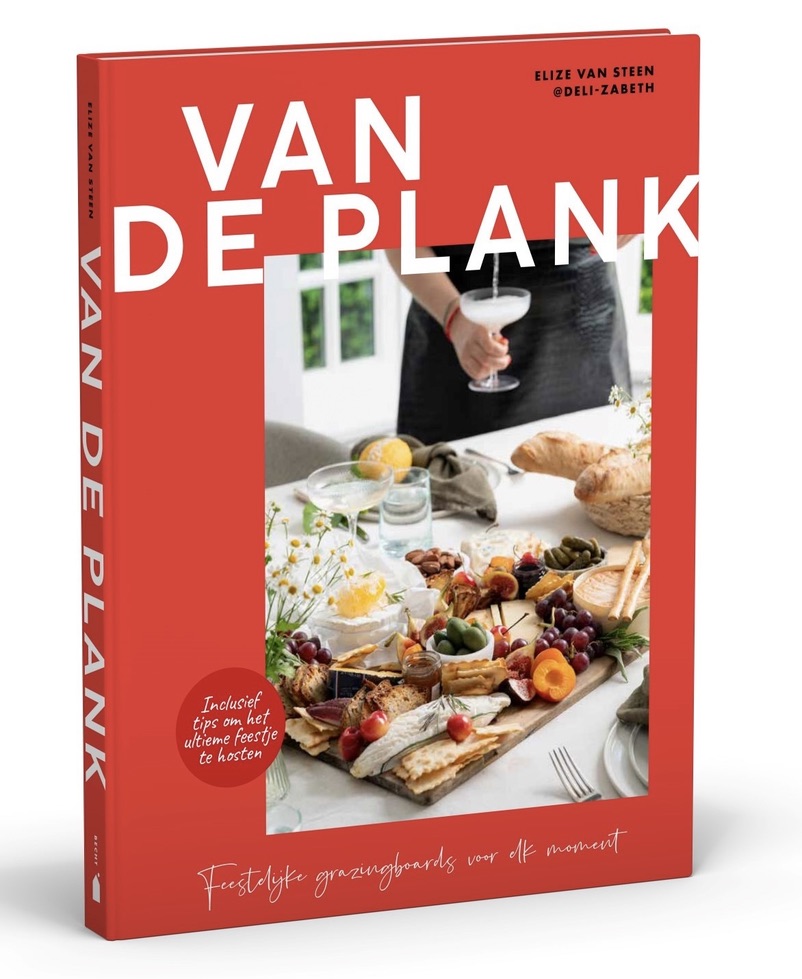 WORK WITH ME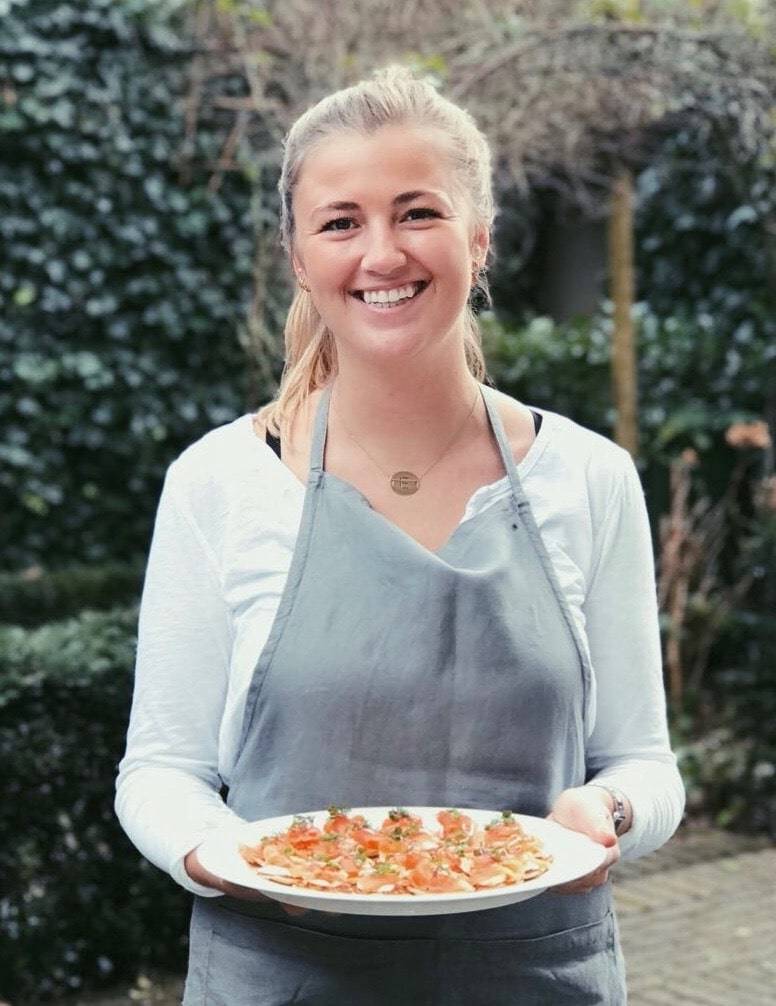 Together, we can create outstanding food experiences. I'm experienced in multiple fields and would love to tell you more about it. Click on the button below to read more about my work and to get in touch!
WORK WITH ME