Recipes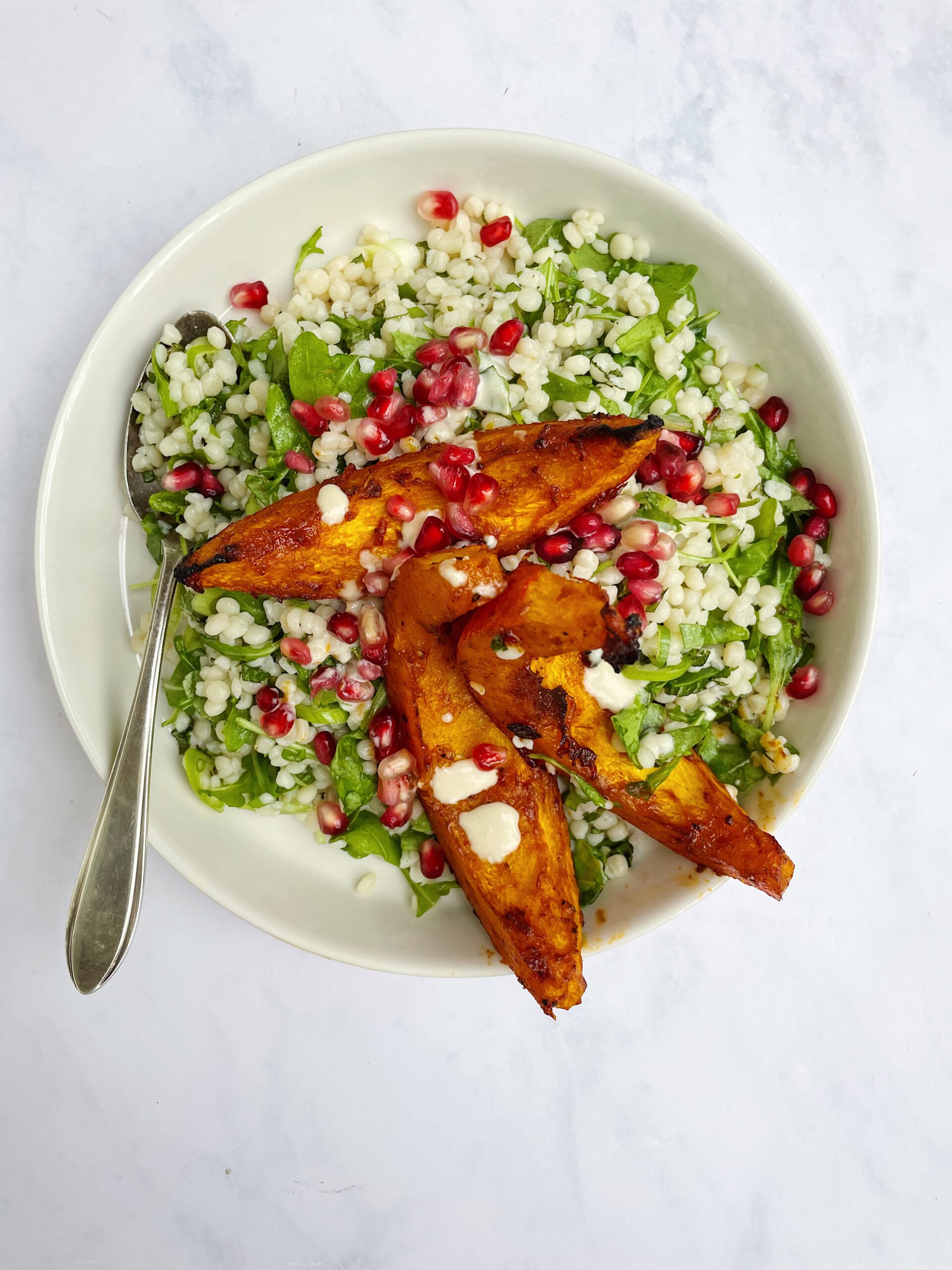 Sticky harissa roasted pumpkin with pearl couscous salad
Season :Autumn Servings :4 Diet :Vegan Time :50 minutes Difficulty :Easy
INGREDIENTS
Pumpkin (about 1 kg)
3 tsp. harissa mild
2 tbsp. maple syrup
2 tbsp. olive oil
Pomegranate seeds
Toasted salted almonds, coarsely chopped
Pearl couscous salad
300 gr. pearl couscous
1 cube of vegetable stock
2 large hands of rocket
4 stalks spring onion
15 gr. mint 
Juice of half a lemon 
Drizzle of extra virgin olive oil
Tahini sauce
6-8 tbsp. tahini
Juice of half a lemon
1/2 clove grated garlic
PREPARATION
Preheat the oven to 200 degrees.
Cut the pumpkin into 12 wedges (remove the pumpkin seeds) and mix with the harissa, maple syrup, olive oil and a generous pinch of salt and pepper. Spread on a baking tray lined with baking paper and bake in the oven for 35-40 minutes.
Meanwhile, cook the pearl couscous in stock according to the package, drain and rinse briefly under cold water. Drain well.
Coarsely chop the rocket and finely chop the mint and spring onion and add these to the pearl couscous together with the lemon juice, extra virgin olive oil and a pinch of salt and pepper and mix well together.
For the tahini dressing, mix all ingredients together with a splash of water into a liquid creamy dressing, season with salt and pepper.
Divide the pearl couscous salad between 4 plates, top with 3 slices of roasted pumpkin and finish with the tahini dressing, pomegranate seeds and toasted salted almonds and serve!
ORDER MY EBOOK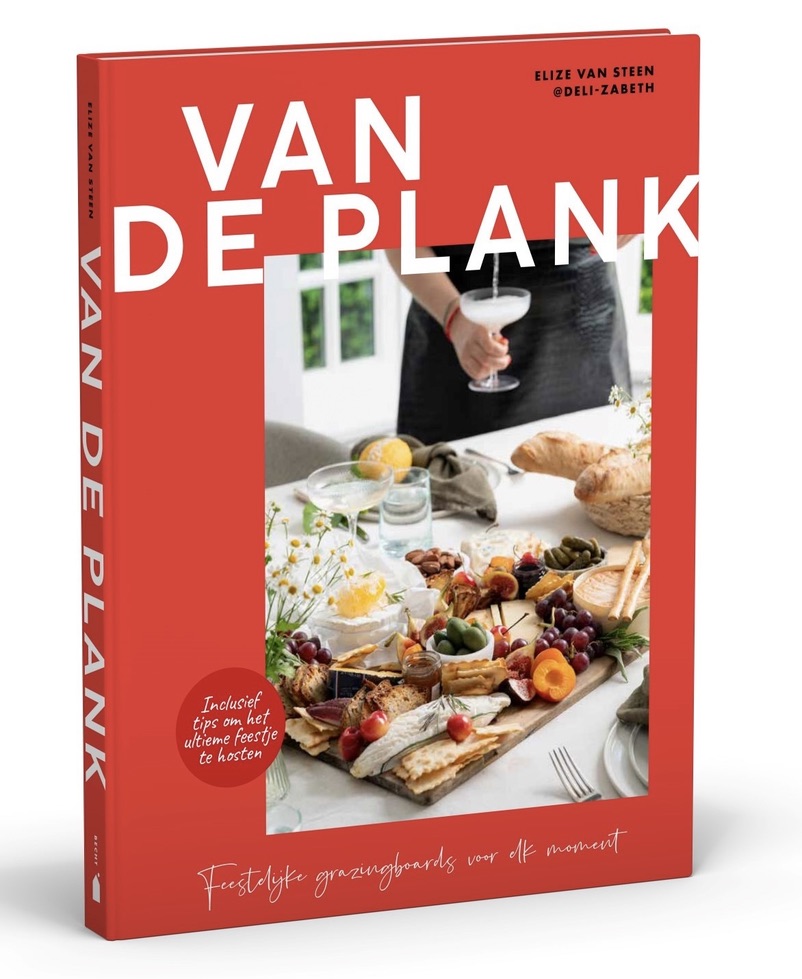 WORK WITH ME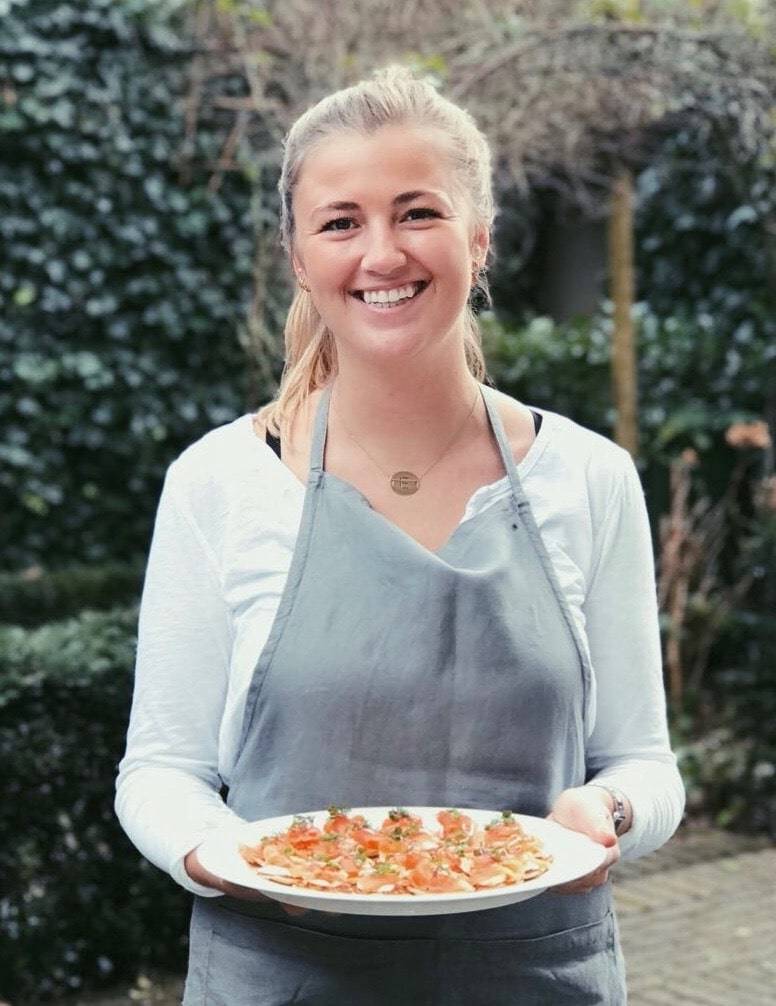 Together, we can create outstanding food experiences. I'm experienced in multiple fields and would love to tell you more about it. Click on the button below to read more about my work and to get in touch!
WORK WITH ME